High Performance Oil Regeneration Machine for Decoloring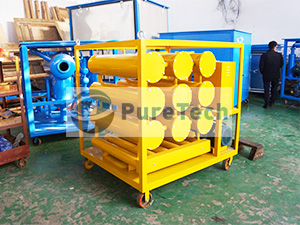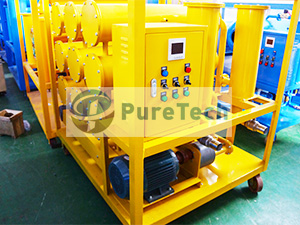 Standalone 6000 LPH Oil Regeneration Device has finished inspection and ready to Packing
PureTech's Model RD-100 (6000 Liters/Hour) Oil Regeneration Device has been successfully passed the inspection and trial running, will be packed and delivered to our client. This oil regeneration device is a standalone type without vacuum oil processing system, it is mainly used to further purify the deteriorated oil, such as used transformer oil, hydraulic oil, etc. which contains acids, oxides, sludges and other decaying products that cannot be removed by Vacuum Oil Purifiers.

With the oil regeneration machine, you can remove the acids from oil, further refining the oil, and improve the oil color. Usually the deteriorated transformer oil color is brown or dark, after regenerated by PureTech oil regeneration machine, the oil color will be improved to its original color without influence the oil quality. It's also workable to other industrial oils such as hydraulic oil, for hydraulic oil decoloring.
Contact us for more info.