Transformer Oil Purifier Machine Arrives At User Site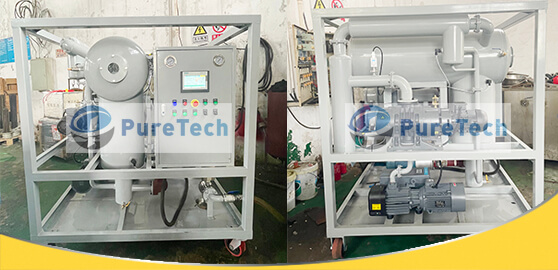 Another new set of Transformer Oil Purifier Machine has arrived at our client's factory, and ready for transformer oil filtration service.
It is a Double-Stage High Vacuum Transformer Oil Purifier designed with two vacuum pumps (rotary vacuum pump and vacuum booster), electric heater with thermostat, three-stages filters (pre filter and two fine filters), degassing chamber, oil pump with driven motor, PLC control and Touch screen, transformer evacuation port, digital flow meter, pirani vacuum gauge, valves and pipes, electric control cabinet, oil hose, etc.
It arrives at user's site as a complete set and ready for application directly. After connecting the power supply and oil pipe, user can easily start the machine, and then the machine will work automatically for transformer oil filtration, dehydration and degassing. The breakdown voltage after Transformer Oil Purification can be up to 75kv, and water content can be lower than 5 ppm, which strictly meet the requirements of power transformers.
For different voltages of power transformers, we have VOP model single-stage vacuum (mainly for 66kv and below) and DVOP model double-stage vacuum (for high voltage like 110kv and above), besides we provide customized services if user has special requirements on the design or technology. This is our advantage as a manufacturing based enterprise with a professional technical team.
More information please contact us.
PureTech Oil Filtration
web: www.cqpuretech.com
Tel:+86 17815389416
Email: sales@cqpuretech.com