2 Sets Mobile Transformer Oil Purifiers Successful Acceptance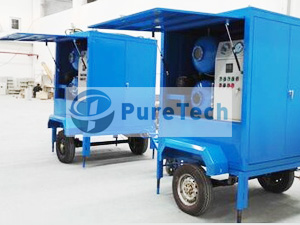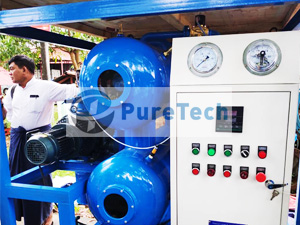 2 sets of PureTech Trailer type Transformer Oil Purifiers successfully accepted by the end user.
PureTech's 2 sets of DVOP-C-50 (3000 Liters/hour) Double stages vacuum Transformer Oil Purifier with double vacuum chambers has been successfully passed the quality check and acceptance test of end user, the clients are very satisfied about the production and performance of PureTech products.

This DVOP-C has dual vacuum chambers, compare to DVOP model, the design of two vacuum chambers enlarge the evaporation area of water within one pass, hence further improve the efficiency of oil dehydration and oil degassing. The mobile trailer with one guiding wheels and two pneumatic tires for cars, as well as four lifting foot. The weather-proof enclosure is made of steel, which can protect the machine inside the enclosure from damage of extreme weather.
PureTech has many configurations for clients to compare and choose, economic type and luxury type, customers can select the one most suitable for their needs.