Delivery of Transformer Evacuation System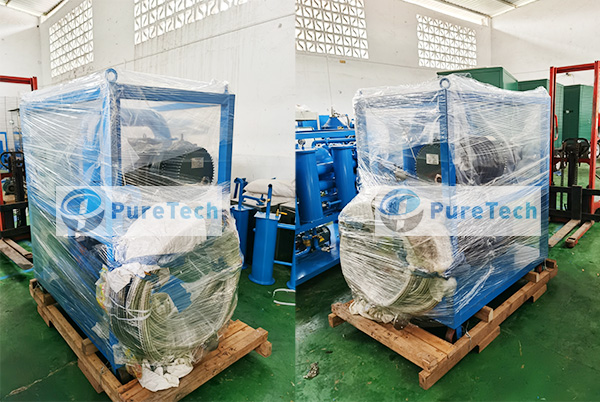 PureTech successfully completed the order of transformer evacuation system for our end user in power transmission industry. The stainless steel wire braided hose for transformer vacuuming is delivered along with the transformer evacuation system.
The transformer evacuation system is designed with combination of the highly efficient pumping system of a rotary vane vacuum pump and a roots booster pump (Mechanical Booster pump), to handle large volumes of moisture in transformer's tank, which called transformer vacuuming or transformer drying. It is composed of a rotary vane vacuum pump,roots booster pump, motors, control panel, guages, valves and piping, which are assembled on a portable base. This system is used for exhausting and dehumidifying a transformer before filling insulating oil in it. It is designed and manufactured for easy operation and maintenance (here you can also contact us for info about Transformer Oil Filtration Machine). It is suitable for long time use at site.
PureTech Transformer evacuation systems is offered with indoor and outdoor type options with control panel. The outdoor type adds a metallic weather-proof enclosure on the indoor type, to protect the transformer evacuation system from the harm and damage of extreme weather or dust in the working environment when working outside. Both indoor and outdoor type are mobile with industrial castors, make it easier to move.
This transformer evacuation system developed by PureTech is a simple "plug & play" type device, it can be started after connecting the power and vacuum hose at user's site.
The double-stage vacuum pumping group is especially suitable for Transformer Evacuation during transformer installation, repair and maintenance. The capacity of the evacuation system varies according to the size and capacity of installed transformers. More info please contact us.