High Vacuum Transformer Oil Filtration Machine Running in Middle East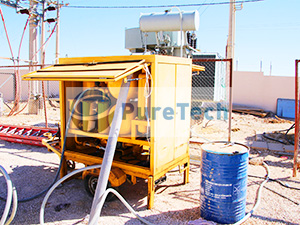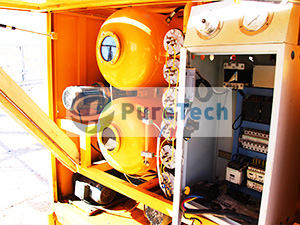 PureTech's DVOP-C High Vacuum Transformer Oil Purifier Working at transformer substation in Middle East.
This high vacuum Transformer Oil Purifier is designed with double-stage vacuum system, which can generates a limit vacuum of less than 5 Pa. The first stage pump is a rotary vane vacuum pump which can achieve 0.5 mbar vacuum, while the roots booster pump as the second stage vacuum pump which can achieve 0.0005 mbar vacuum. Furthermore, this type is also designed with double-stage vacuum chambers, its oil evaporation area is twice that of the DVOP model and VOP model. Therefore, by useing DVOP-C, it wil greatly shorten the time of oil filtration, improve the working efficiency.
This machine is trailer-mounted type with weather-proof enclosure, which is especially suitable for some extreme weather, the mobile trailer with roadworthy wheels can reach 75 km/h, the wheels are pneumatic tires for automobiles, and the weather-proof enclosure is made of steel, which has strong capabilities of anti-collision and anti-corrosion, it can protect the oil filter machine well over many years of operation.
More details about Transformer Oil Purification machines please contact us freely.