3000LPH Transformer Oil Dehydration Machine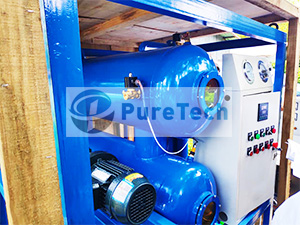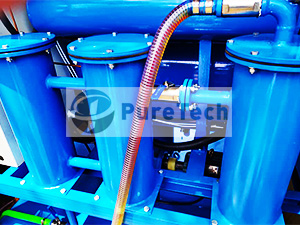 PureTech DVOP-50 Double-Stage Vacuum Transformer Oil Purifier Successfully Passed Client's Inspection in Southeast Asia
Two sets of DVOP-50 Vacuum Transformer Oil Dehydration Machine provided by PureTech has been accepted by the client in Southeast Asia after check and inspection. Both sets are high vacuum transformer oil processing type with double-stage vacuum pump system, besides the design of two stage vacuum chambers enlarges the oil evaporation area, so that the oil film can effectively and efficiently be evaporated under high vacuum.
The three-stage filtration system (primary filter, fine filter I & fine filter II) ensures the final cleanliness of transformer oil after purification and dehydration. The first primary filter also prevents large size particulate matters from entering into the Oil Purifier and cause the wear of oil pump. Normally we recommend the filtration precision of the fine filter II is 1 micron. There is circulation valve inside the oil purification system, which can form a inner cycle when needs to clean the inside of oil purifier.
Monitor gauges and meters are installed, such as digital temperature controlling gauge, vacuum gauge, pressure gauges, etc. to ensure the normal running of Transformer Oil Filtration Machines. Protection settings of this machine also ensure the reliable and stable performance.
We PureTech keeps providing the better quality and performance with better prices for you, if you are in need of one Oil Purification Machine, please contact us freely.