Transformer Oil Treatment Plant Under Testing Before Delivery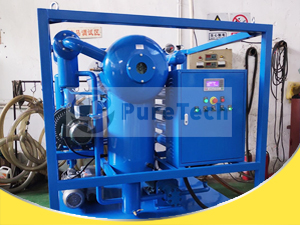 PureTech Transformer Oil Treatment Plant Under Factory Testing Before Delivery
This Transformer Oil Treatment Plant being tested is Puretech Model DVOP Double-Stage High Vacuum Transformer Oil Filtration Machine, which adopts technologies of vacuum degassing, multi-stage filtering, thermal-vacuum separation, etc. It is especially designed with double vacuum pumps, namely rotary vane vacuum pump and roots booster pump, greatly increase the vacuum degree inside the oil treatment plant while transformer oil dehydration, therefore improve the effect and efficiency of transformer oil treatment. This model DVOP is especially suitable for (Ultra) High Voltage Transformers above 110KV, and the treatment capacity can be chosen from 1,800 liters/hour to 18,000 liters/hour.
Oil Specification after Vacuum Degassing and Oil Filtering:
(1) Water Content: below 5 PPM
(2) Gas Content: below 0.1%
(3) Removal of Particles: remove particles over 1 micron
(4) Breakdown Voltage: Improve to above 75KV
Model DVOP can be equipped with various different online oil testing instruments or accessories as below:
A. Online Oil Testing Instruments:
a) Online oil flow meter
b) Online oil moisture content tester
c) Online Pirani vacuum gauge
B. Accessories:
d) Mobile trailer and weather-proof housing
e) PLC control system and touch screen
f) Evacuating port for transformer evacuation
PureTech is a manufacturer of oil treatment plant and oil regeneration plant, which are widely applied in many industries, like power transmission, power generation, cement, mining, machinery, metallurgy, oil & gas, chemical engineering, railway, petroleum, etc. and are highly appraised by numerous customers.
With strong R & D ability, advanced products, mass-production capability, perfect quality control, and excellent after-sales service, we PureTech have formed a rigorous management system. Each production lines of PureTech products, from the material procurement to testing & inspection, as well as packaging, all completed in strict accordance with the standards of ISO 9001.
PureTech also supplys Vacuum Pumping System for Evacuating Transformers, Dry Air Generator for Transformer Maintenance, SF6 Gas Recovery and Filling Machine, Oil Testing Equipment, you are welcome to inquire us for any details of our products you are interested in. Please visit us at www.cqpuretech.com