OFC-50 Portable Oil Filter Carts in Substation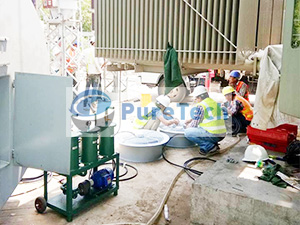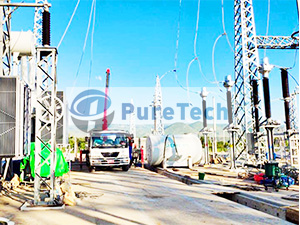 PureTech OFC-50 (3000 Liters/Hour) Portable Oil Filter Carts Working at Substation
Model OFC designed by PureTech is a portable oil filter carts which has three stages of filter elements with different filtration precision, oil pump with electric motor, pressure gauages, and portable structure with wheels.
The OFC portable oil filter carts have simple structure, small dimensions and light weight, because of these advantages, it is very convenient for oil filtering in different sites or factories.The pictures shows our client in Myanmar is doing transformer oil filling with our OFC portable oil filtration carts. It works as the oil filtration machine before filling new oil into the transformer oil tank, by removing particulate matters from oil. Besides, it also works as the oil transfer cart, which can pump the transformer oil from the oil storage tanks to transformer oil tank.
For other industrial oils, it is also workable and helpful. If your oil contains too much dirt or impurities, we will recommend you our PF series Plate Frame Filter Press Machine, which is also portable type, it filter out impurities by filter paper.