PureTech Vacuum Transformer Oil Purifier at China Power Plant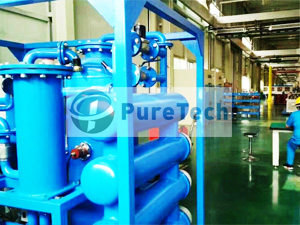 PureTech vacuum Transformer Oil Purifier is working at Northwest China Power Station for oil filtration and oil degassing.
PureTech Vacuum Oil Purifiers are widely applied in power plants, power stations, power enterprises, power transmission and transformation, metallurge, petrochemical, machinery, railway, mining and other industries which has lube oil systems. For insulating oil processing, the vacuum pump system is composed of two vacuum pumps, that is rotary vane vacuum pump as the first stage, and the roots booster pump as the second stage. According to the voltage of transformers, sometimes for ultra-high voltage transformer oil filtration, we will add one stronger vacuum pump system to achieve better oil dehydration and oil degassing effects.

The heating system in PureTech Transformer Oil Purifier is composed of electric heating elements, housing, temperature gauge and controller, thermostat. It adopts the most optimized pipeline design to ensure the uniform heating, and stable temperature. To avoid the phenomenon of oil aging caused by local overheating. When the oil temperature reaches the set value, the heater will stop working, and when the temperature is lower than set value, it will start automatically.
More specifications about PureTech Transformer Oil Purification machines and other Vacuum Oil Purifier, please contact us freely.