Transformer Oil Filtration Plant Delivery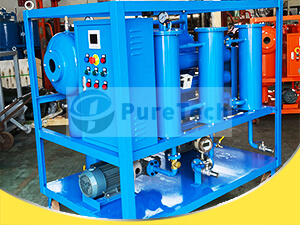 Single-stage Vacuum Transformer Oil Filtration Plant
PureTech delivered two sets of Single-stage Vacuum Transformer Oil Filtration Plants to our customers. This VOP series (single-stage vacuum) is equipped with one vacuum pump, suits for oil treatment of 66 kv (and below) power transformers.
The performances of PureTech VOP transformer oil filtration plants includes:
(1).Removal of particulate matters from transformer oil
(2).Removal of water from transformer oil
(3).Removal of gas from transformer oil



The transformer oil filtration plant includes following main systems:
1.Oil transfer & circulating system
2.Heating system
3.Filtration system
4.Dehydration & degassing chamber
5.Vacuum pumping system
6.Gauges and instruments
7.Valves and piping
8.Electrical control cabinet
9.Self-protection settings
PureTech offers you various configurations and optional items which will help your business. Contact us for more details.