PureTech TOP-50 Used in Hydropower Station
Recently, after end uses's of communication and investigation, Leshan Youxing Power Station Co., Ltd. place an order to PureTech to purchase a turbine oil purification system for their hydropower station.Thanks for their trust in PureTech.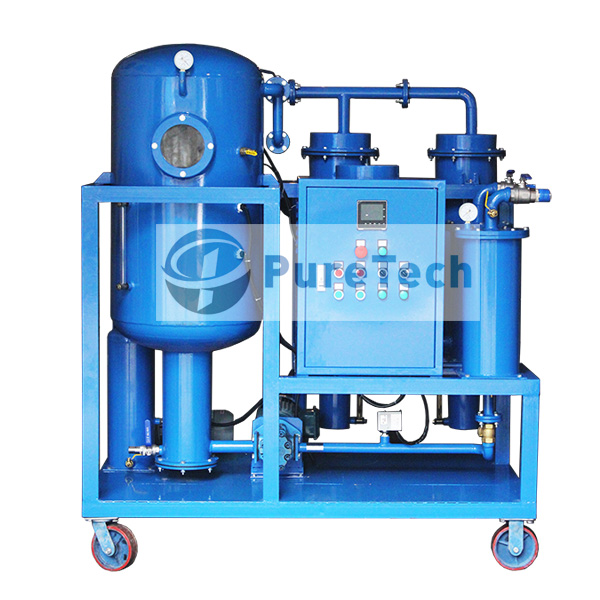 This turbine oil purification system is a vacuum oil purification system for processing power plant steam turbine lubricating oil, with a capacity of 3000 liters/hour. This new Turbine Oil Purifier realizes the repeated use of steam turbine lubricating oil after purification. At present, this equipment has entered the final commissioning stage before delivery.
The turbine oil to be purified is VG46/VG32, with PureTech's TOP-50 Turbine Oil Purifier, it can effectively remove free and dissolved water, solid particles and mechanical impurities from turbine oil, to maintain turbine oil cleaning. Especially, this model is designed with a water-oil-separator, also called as coalescing filtering device, combined with thermo-vacuum technology, it is capable of treating emulsified turbine oil, compared with the shortcomings that the centrifuge cannot handle emulsified oil, this vacuum turbine oil filtration equipment can be said to achieve multi-function integration, and also improve the accuracy of filtration.
TOP series Vacuum turbine oil purifier is a high-efficiency oil purification equipment independently developed by PureTech. It can purify waste steam turbine oil, remove impurity particles, remove moisture, remove gas, demulsify, and can realize autonomous control, autonomous oil delivery, oil injection, and pumping; it can also realize automatic PLC programming, add automatic alarm system, automatic online pollutant monitoring alarm system, etc. according to the actual requirements of users. As a non-standard production supporting machinery, the corresponding functions of the oil filter can be added according to the actual situation of the user, and finally customized production.
Leshan Youxing Power Station Co., Ltd. is a local power generation company engaged in the development of small and medium hydropower in Sichuan Province, southwest of China. It has made achievements in the field of environmental protection energy development and utilization. Currently, it is mainly committed to the development and utilization of clean hydropower energy. It has more than ten small and medium hydropower stations under its umbrella. The utilization and development of clean energy have made outstanding contributions. At present, the comprehensive recycling of steam turbine oil for hydropower stations has been achieved through the purchase of vacuum turbine oil purifiers, which has also improved the plot production capacity of small and medium hydropower stations.