Trailer Mounted Transformer Oil Purification Machine Delivery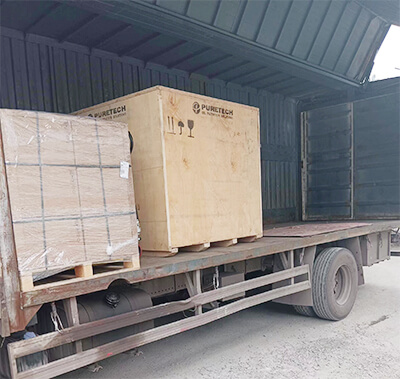 Trailer-mounted Transformer Oil Purification Machine made by PureTech Oil Filtration adopts a double-stage high-efficiency vacuum pumping system (rotary vane vacuum pump and roots booster pump) to rapidly increase the inner vacuum degree of the oil purification system, thereby efficiently and effectively remove moisture, gas, and particulate matters in the oil at a temperature around 60 degrees. It can effectively shorten the transformer installation and maintenance period, especially for use in high altitude areas. This machine can also be used for vacuuming transformers separately.
PureTech transformer Oil Purification Machines are mainly composed of following parts & components:
(1) Filter cartridges (pre filter, fine filter I and fine filter II);
(2) Electric heating (heater, thermostat, temperature meter);
(3) Vacuum dehydration system (vacuum chamber/degassing chamber, level controller, drain valve, foam eliminator, valves, etc.);
(4) Oil pump and motor (oil outlet pump, oil inlet pump [optional], oil flow meter, pressure meter, pressure controller);
(5) Vacuum pumping system (rotary vane vacuum pump, roots booster pump [for double-stage type], condenser, evacuation valve, vacuum controller & meter );
(6) Protection settings (oil level protection, temperature protection, phase-sequence protection, voltage protection, etc.)
(7) Optional accessories (mobile trailer, steel housing, PLC & HMI, online moisture content sensor, etc.)
PureTech just delivered one trailer-mounted transformer oil purification machine to our client. The transformer oil purification machine is mounted on a roadworthy trailer, and covered with steel housing, which can protect this oil purification machine from terrible weather. The roadworthy trailer is divided into single-axle type and double-axle type, depends on the flow rate or customer requirements.
Would you like to get our latest catalogue and price of trailer-mounted transformer oil purification machine ? Please contact us now.
---
We PureTech also specialized in transformer oil filtration, transformer oil purification machine, Transformer Oil Purifier, Transformer Oil Dehydration, transformer oil degassing, transformer oil polishing, transformer evacuation, etc.
Email: sales@cqpuretech.com
Tel: +8617815389416 (whatsapp)
Web: www.cqpuretech.com