PureTech High Vacuum Oil Purifier and Air Drying System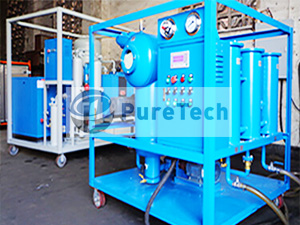 PureTech's inspection on Transformer Oil Purifier and Dry Air Generator before delivery.
PureTech's one set of High Vacuum Transformer Oil Purifier and one set of Dry Air Generator are under quality inspection and trial running before delivery. Both the two equipment are necessary maintenance tools for transformer installation and transformer repair.

After long time of running, the transformer oil is inevitably contaminated by water or moisture in the air because of leaking or bad sealing, the water will cause the drop of breakdown voltage and dielectric strength, if not purify the oil in time, it may lead to some safety incidents. With the Double-stage vacuum transformer oil purifier provided by PureTech, you can filtrate, dehydrate and degas the contaminated transformer oil, and meet the reuse standards again. Even the new transformer oil needs to be filtrated and dehydrated before filling into the transformer oil tank, that is because the transformer oil might be polluted by impurities and moisture during transportation.
When service engineers are doing transformer installation, maintenance and repair work inside the transformer tanks, no air is allowed into the tank because of moisture, if filling with nitrogen, it's difficult for engineers to do the work because lack of air. Therefore, our Dry Air Generator (Air Drying Device) is especially designed to provide purified dry air, there is no moisture contained in the dry air provided, meanwhile it will supply the breathable air for engineers, it's much safer than nitrogen filling.
Contact us for more details via sales@cqpuretech.com