Application

of Transforme

r Oil Filtration System (Double-stage vacuum chamber type)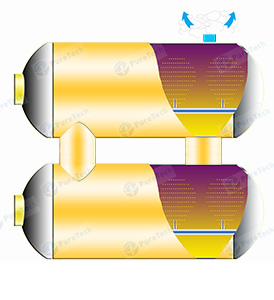 The PureTech mobile Double-Stage Vacuum High-Efficiency Transformer Oil Filtration System (Model DVOP-C) is designed with double vacuum chambers on the basis of Double-Stage Vacuum Transformer Oil Purifier (Model DVOP), and it is mainly used to improve the efficiency of transformer oil dehydration and degasification for above 110KV EHV transmission and distribution equipment, substation and more than 500KV UHV transformers etc.
Compared to Model DVOP, the structure of Two-stage horizontal Vacuum Chambers further enlarge the evaporation area of transformer oil under vacuum, which greatly improve the working efficiency and effect of degassing and dehydration within one pass. After purification, the water content of transformer oil will be reduced to less than 3 ppm, and breakdown voltage will be improved to above 75KV.
In addition, Model DVOP-C can also be used as an vacuum drying and vacuum filling equipment during transformer maintenance.
Working Principle

of Transforme

r Oil Filtration System (Double-stage vacuum chamber type)
Under vacuum and negative pressure state, the water will be vaporized in low temperature, the higher vacuum state,the lower of water boiling point, and the water is vaporized faster. Even under same temperature, water can be removed faster under vacuum state. Transformer oil firstly goes into electric heater after purified by one coarse filter, oil is heated to the set temperature which is controlled and maintained by the temperature controller. Then oil goes in to vacuum chamber to become oil film by the film sprayer. In vacuum chamber, water becomes vapor with gases to be discharged by vacuum.

The transformer oil after drying and degassing will flow through two more fine filters and then be pumped out of system.
Fea

tures

of Transformer Oil Filtration
Machine
System (Double-stage vacuum chamber type)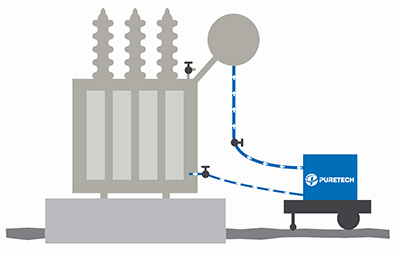 • Double-stage horizontal chambers further enlarges the evaporation area in one pass, greatlty improve the effect and efficiency of oil dehydration and degasification.
• Double-stage vacuum pumps ensures the reliable vacuum condition.
• Multi-stage filtration ensures the high oil filtering accuracy to be 1 micron.
• Multifunctional integrated equipment, can be used oil treatment, vacuum oil filling and vacuum drying. (*More functions can be customized according to your requirements.)
• Model DVOP-C Transformer Oil Purifier can work offline or online under the safe operation.
• A regeneration device can be mounted or connected if needed for oil regeneration.
• Online oil testers, trailer type with road-worthy wheels, weather-proof enclosure and other spare parts are available for selection.
Specification of Transformer Oil Filtration System (Double-stage vacuum chamber type)

Machine Parameter

Item

Unit

DVOP

-C-30

DV

OP-C-50

DVOP-C-

75

DVOP-C

-100

DVOP

-C-150

DVOP-C

-2

00

DV

OP

-C-3

00

Flow rate

liters/hour

1800

3000

4500

6000

9000

12000

1800

0

Vacuum degree

M

pa

(-0.08) ~ (-0.099)

Working pressure

Mpa

≤ 0.3

Temperature range

℃

40 ~ 80

Power supply

 

380Volts, 50Hz, 3Phase (Or customized)

Heating power

kw

24

30

48

60

90

120

13

0

Total power

kw

26

34

54

68

100

135

146

Inlet/o

utlet diameter

mm

32

32

44

44

50

58

65

Size

Length

mm

1250

1350

1550

1800

2000

2100

2300

Widt

h

mm

900

100

0

1150

1400

1750

185

0

2

000

Height

mm

1450

1500

1700

1750

1800

2250

2300

Weight

kg

500

600

800

1100

1300

1900

2300

Oil index aft

e

r

purification

Breakdown voltage

kV

≥75 (Spherical electrodes)

Water conte

nt

ppm

≤3

Gas content

%

≤0.1

Filtering accuracy

micron

1
* OPTIONAL CONFIGURATIONS: PLC automatic control system, Fully-Touch Screen, Mobile Trailer, Weather-proof Enclosure, Online Oil Testing Instruments, etc.
* Please inquire us for other flow rates or types.
* The machine size and weight will change slightly due to different configurations.The machine size and weight will change slightly due to different configurations.
P

ureTech Worldwide Projects

on Oil Purification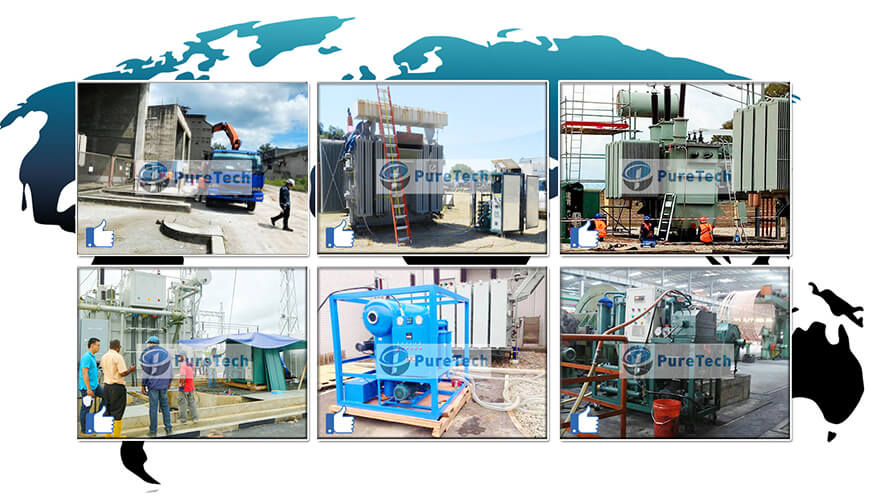 After-Sales Service
• 12 months of quality guarantee for non-human damage.
• Lifelong maintenance and spare parts supply.
• Free training on operation, maintenance and troubleshooting at PureTech factory.
• Puretech engineers go to customer site for commissioning and training (payable service).
• Design accept user's customization.