PureTech Centrifugal Oil Separator Working At Power Plant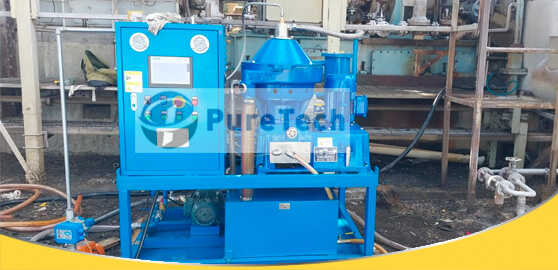 PureTech designed and manufactured Centrifugal oil separator is also called as oil centrifuge machine, which can be used in various applications, and used for solid-liquid separation, to purify turbine oil and other lube oils in turbines and diesel engines by removing solid impurities and water from oil.
Our newly delivered centrifugal oil separator is used in turbine power plant, to purify turbine oil by removing impurities and water. It works continuously and stably. How does a centrifugal oil separator work? A centrifugal oil separator adopts centrifugal force to perform the separation of liquids-solids. As the separator spins at high speed, centrifugal force is generated much greater than gravity. The dense particles (solid particles and heavy liquid) are forced to the outer bowl wall due to the centrifugal force created in the unit.
PureTech power plant use centrifuge oil water separator is composed of oil pump, oil centrifuge, electric heater, filter cartridges, water chamber, discharge tank, valves and hoses, gauges and indicators, as well as electrical control. The operation modes can be made as manual control and auto control with PLC & LCD touch screen.
For turbine oil purification, PureTech also manufactures Vacuum Turbine Oil Purifier which can be used for turbine oil treatment at power plant, it adopts different working principle from centrifugal oil separator. Vacuum Turbine Oil Purifier adopts thermal-vacuum technology, it can further reduce the water content, and especially suitable for emulsified turbine oil, and make the milky oil clean.
More about centrifugal oil separator or other lube oil filtration units, please feel free to contact us.
PureTech Oil Filtration
www.cqpuretech.com
sales@cqpuretech.com
WhatsApp: +8617815389416
Keywords: Centrifugal oil purifier separator, diesel fuel centrifuge plant, automatic centrifugal separator, oilfield centrifuge, oil centrifuging machine, centrifugal separator,centrifugal oil purifier, centrifugal oil separator, oil centrifuge machine