Vacuum Transformer Oil Filteration Machine Delivered to Malaysia Client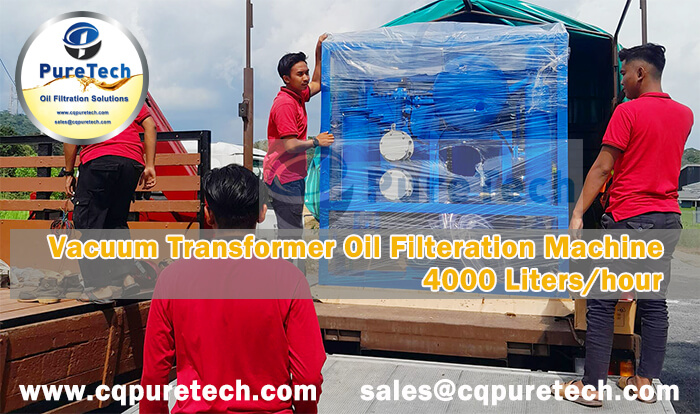 PureTech Oil Filtration manufactured 4000LPH Double Stage High Vacuum Transformer Oil Filteration Machine was successfully into use in Malaysia. Transformer Oil Filteration/filtering is an important process and necessary procedure which eliminates solid particles, dissolved gasses, and dissolved water. The electrical properties of the oil can be enhanced by filtering, dehydration, and degassing. Oil Filtering keeps the transformer in good condition and increases its life.
This 4000LPH Transformer Oil Filtration Machine adopts double vacuum pumps, that is rotary vane vacuum pump and roots booster vacuum pump. When user starts the rotary vane vacuum pump, and vacuum inside the oil filtration machine reaches to a set value, the roots booster vacuum pump will start working automatically, and quickly improve the vacuum degree of the machine when processing Transformer Oil Dehydration and degassing. Besides, the three stage filter chambers can remove 99.9% impurities with a large impurity-holding capacity, usually these filters can be used for 5 years and more. Moreover, the electric heaters in PureTech oil filtration machine is designed with thermostat, temperature sensor, which can avoid overheating of the oil, and low density heater greatly avoid local overheating/burning of transformer oil.
Generally, transformer oil filtering machine is necessary when performing transformer repair and maintenance work, and furthermore, new transformer oil should be firstly filtered and dehydrated before filling into transformers. That means, transformer oil filtering machine is quite necessary and useful when performing transformer installation, repair work, maintenance work. Scheduled maintenance of transformer oil (transformer oil filtering, dehydration, degassing) can helps to extend the service life of transformer oil, also can prevent the failure of power transformers due to deterioration of transformer oil if lack of proper maintenance.
Based on different voltage of power transformers, different using environments of substations, PureTech designed transformer oil filtering machine can be manufactured as Double-stage high vacuum type and Single-stage vacuum type, Outdoor mobile trailer-mounted type with weather-proof cover, Indoor mobile type with movable castors, One degassing chamber type and Dual degassing chamber-high efficiency type, etc. In general, as a manufacturer ourselves, we can use our experience and profession to satisfy your requirements furthest.
Welcome to inquiry PureTech Oil Filtration for more info. We not only manufacture Transformer Oil Filtration Machine, but also manufacture Vacuum Pumping Unit for transformer evacuation, Dry Air Generator for transformer repair.
More about us at www.cqpuretech.com or email us at sales@cqpuretech.com, WhatsApp us at +86 17815389416.