6000LPH Vacuum Oil Purifier Working at Transmission Site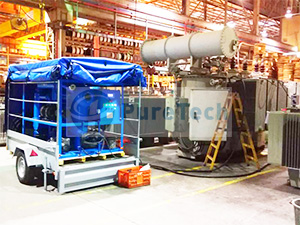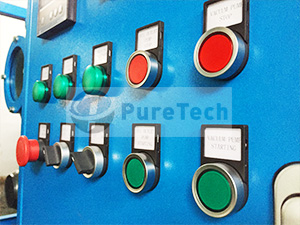 PureTech 6000 LPH Vacuum Transformer Oil Purifier working at transmission site
PureTech Transformer Oil Purifier has stationary and mobile types, which is suitable for different demands of clients. It can be also placed on your own truck, we PureTech accept customized requirements such as dimensions to be suitable for the truck or other containers.

The transformer oil purifier is required to treat and process insulating oils, which is aimed to improve oil breakdown voltage and dielectric strength as well as other important insulation parameters by removing water/moisture, gases and particulate matters from oil. The heart of this Transformer Oil Purification machines is the thermal vacuum technology, which adopts electric heating device with temperature controlling settings, and strong vacuum system (double stage or single stage).
The operation of PureTech transformer oil purifiers is quite easy, considering the convenience of use, we have added a lot of interlocking reaction settings and protection settings. Also, we can make re-designing for our clients who have special requirements, such as perform the transformer evacuation service with transformer oil purifier, etc.
Contact us and know more about oil purification equipment.