Online Purification of PureTech Transformer Oil Filter Machine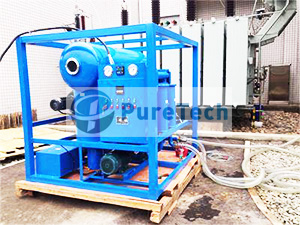 PureTech Transformer Oil Purifier 6000LPH used for insulating oil treatment.
PureTech Transformer Oil Purifiers are mainly used for purification, dehydration and degasification of unqualified insulating oil such as transformer oil, switch oil, capacitor oil, etc., and can also be used for vacuum oil filling. It is suitable for the construction, installation, maintenance and on-site repair of ultra-high voltage and ultra-high voltage large-scale power transmission and transformation equipment above 110KV.
(1) Used for deep purification of high-grade new oil, imported oil, transformer oil, ultra-high voltage transformer oil and other oil products.
(2) Can also be used for the deep dehydration treatment of oil products such as capacitor oil and refrigeration oil of air-conditioning compressors that require micro water content and low oil content.
(3) This equipment has the functions of vacuum oil injection and vacuum pumping, which can meet the functions of vacuum drying and hot oil circulation filtration at the current construction site.
(4) Due to the dual-stage high-vacuum design, it is more advantageous to use this series of DVOP models in high altitude areas.
(5) According to the practical demands of clients, we can make adjustments and make the machine performs better in some aspects for the users.
Welcome to inquire us about the prices of Transformer Oil Filtration Machine.