4000 LPH Turbine Oil Purifier Working at Site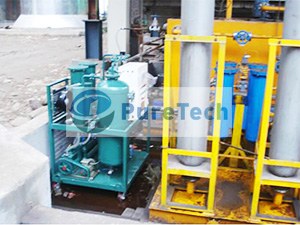 PureTech TOP-4000LPH Turbine Oil Purifier Working at Site
PureTech Model TOP Vacuum Turbine Oil Purifier can quickly remove the water, gas and mechanical impurities in the turbine oil, improve the quality of the oil and restore the performance of the steam turbine oil.
Model TOP is a mature design and product of PureTech over the years, it has an unique and efficient dehydration and degassing system. Using large-area three-dimensional vacuum three-dimensional flash evaporation technology, thin-film evaporation technology and multi-layer oil, water and gas separation technology to quickly separate water, gas and light hydrocarbons in oil.
At the same time, it also has a sophisticated filtration system, multi-stage filtration step by step encryption, the filter element has a large dirt holding capacity and a long service life, and can effectively remove mechanical impurities in the oil. And set the filter element pollution degree automatic detection function.
The safe and reliable heating system, the heater adopts the most optimized pipeline design, to ensure that the oil is heated quickly, heated uniformly, the oil temperature is stable, and there is no dead oil area, which effectively avoids the hazards of cracking and aging of the oil quality. Oil temperature can be set according to user needs.
Contact us freely for the recommendations on your oil processing !