Transformer Vacuuming System Delivered to Client
Transformer vacuuming system is used for transformer drying or transformer evaucation, it is also called as vacuum pumping system or transformer evacuating system.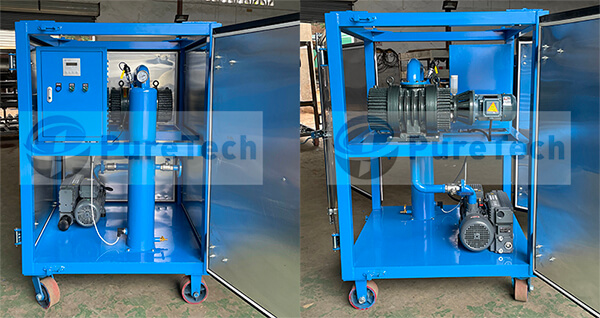 Model: PureTech VPS-70, Pumping Speed: 252M3/H (70L/S)
The working vacuum of this vacuum pumping system is 100Pa, and the ultimate vacuum that can be reached is 5Pa. Because the unit has the characteristics of fast start-up and high pumping speed, it can be used for vacuum smelting, welding, chemical pharmacy, electric vacuum device and other industries as vacuuming device. It is particularly suitable for the evacuation of power transformers. PureTech vacuum pumping system is designed with two or three stages of vacuum pumps.
Two-stage pumping systems

Suits for pumping speed < 1200 L/s

1 Roots pump + 1 single-stage backing pump

Three-stage pump systems

Suits for pumping speed ≥ 1200 L/s

2 Roots pumps + 1 single-stage backing pump
This vacuum pumping system uses roots booster pump as the main pump and rotary vane vacuum pump as the backing pump. An electromagnetic pressure difference valve is connected in series between the backing pump and the main pump, which will act with the opening of the backing pump. The inlet of this system is equipped with a miniature thermocouple vacuum gauge, which is used to observe the vacuum of the vessel to be evacuated and control the start and stop of roots booster pump.
The vacuum pumping systems form compact, pre-assembled units normally ready for transportation, which may be easily installed and operated.