Application | Transformer Evacuation System
The PureTech Vacuum Transformer Evacuation System (Model VPS) is also called as Vacuum Pumping System and Vacuum Drying System. This system is used for exhausting and dehumidifying a transformer before filling insulating oil in it. It performs vacuum drying of high voltage power transformers, and maintaining a high vacuum degree inside transformers, it is a necessary equipment for installation and maintenance of power transformers.
Model VPS Transformer Evacuation System is designed with combination of two-stage high-efficient vacuum pumping system (air-cooling rotary vane vacuum pump and roots booster pump), to handle large volumes of moisture in transformer's tank, and achieve a working vacuum of 10 Pa and a limit vacuum degree up to 1 Pa. This system is a one-click start type, which can be started quickly, furthermore, it has a stable working performance, as well as a powerful vacuum pumping capacity. It adopts a digital intelligent system and vacuum testing instruments, easy to operate and monitor.
Vacuum Pumping System is used for vacuum transformer drying while oil injection is in progress after purification. Therefore, the efficiency of installing and maintaining the transformers is greatly improved.
Features |Transformer Evacuation System
• Transformer evacuation system is offered as a complete set with control panel. This makes the transformer evacuation system a simple "plug & play" type device at user's site.
• The capacity of the transformer evacuation system varies according to the size and capacity of installed transformers.
• Multi self-protection settings protect the equipment from being damaged by sudden situations such as lack of phase, overvoltage or under-voltage, etc.
• Reliable performance, the components and electrical control components are from world famous brands, such as Leybold, Rietschle, Atlas, etc.
• Bulit-in filter to prevent particles from damaging the vacuum pumps.
• It is designed and manufactured for easy operation and maintenance. It is suitable for long time use at site.Mobile type with compact structure, easy to operate and maintain.

• PLC automatic control and Fully touch screen is optional.
• The evacuation system for electrical transformers is also available for outdoor use, metallic enclosure is optional.

Specification | Transformer Evacuation System
Item

Unit

VPS-30

VPS-70

VPS-

150

VPS

-300

VPS-600

VPS

-9

00

VPS-12

00

Pumping speed

m

3

/hour

108

252

540

1080

2160

3240

4320

Ultimate vacuum degree

Pa

≤ 3




≤

1




Pumping stage




2

3

Power supply

380Volts, 50Hz, 3Phase (Or customized)

Total power

kw

3

4

5

7

8

13

18.5

Air inlet

diameter

mm

25

25

40

50

65

65

80

Size

Length

mm

900

1000

1100

1200

1500

1800

2000

Widt

h

mm

800

80

0

800

900

1000

120

0

1500

Height

mm

1200

1200

1200

1500

1500

1600

1800

Weight

kg

450

550

600

900

950

1200

1500
* OPTIONAL CONFIGURATIONS: PLC automatic control system, Fully-Touch Screen, Weather-proof Enclosure, etc.
* The machine size and weight will change slightly due to different configurations.The machine size and weight will change slightly due to different configurations.
Projects Worldwide |

PureTech Oil Filtration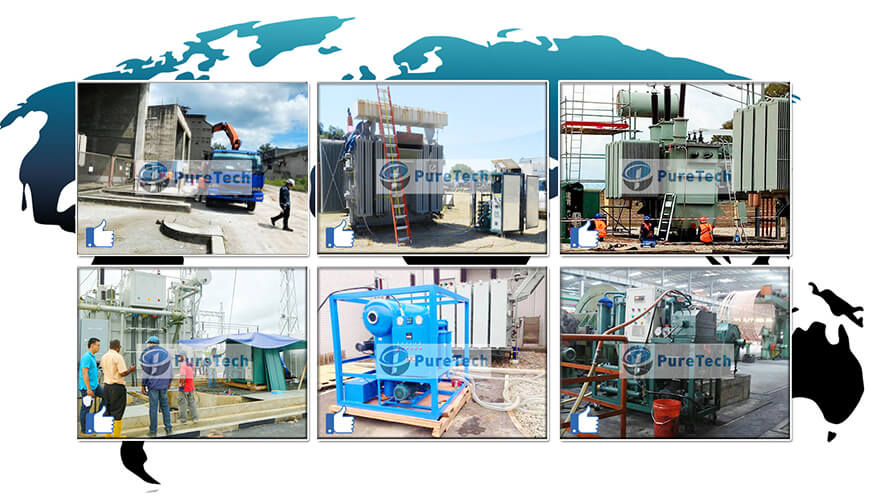 Service |

PureTech Oil Filtration
• 12 months of quality guarantee for non-human damage.
• Lifelong maintenance and spare parts supply.
• Free training on operation, maintenance and troubleshooting at PureTech factory.
• Puretech engineers go to customer site for commissioning and training (payable service).
• Design accept user's customization.