Transformer Oil Regeneration Machine for Oil Refining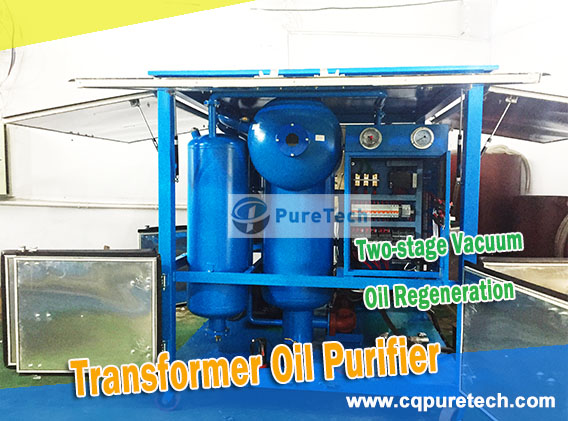 PureTech developed Transformer Oil Regeneration Machine (Model DVOP-R) mainly for the refining and regeneration of deteriorated transformer oil which contains acids, oxide, sludge. After regeneration, the acid value will be brought back to standard data as new oil, besides, the breakdown voltage, flash point and dielectric strength will be further improved, oil color will be improved also.
This model has the basic functions of oil dehydration, degassing and filtration which conventional Vacuum Oil Purifier can perform, furthermore, it is able to the remove acids, oxide, sludge and other decaying products in the insulating oil, as well as improving oil color and oxidation stability. The performance of oil regeneration is by using special adsorbents, like fuller's earth, silica gel, or other material recommended by our experienced engineers according to the oil condition. The regeneration system is installed after the dehydration process, when the insulation oil enters into regeneration system after dewatering and degassing, the adsorbents filled in the tank will fully react with the oil, here the acids and sludge will be absorbed by the material. The regenerated transformer oil will be purified again to remove the possible adsorbents partciles contained in the oil. That's the full purification and regeneration process of Model DVOP-R. The regenerated transformer oil will exceed the quality of new oil, and completely meet the requirements of reuse, meanwhile the operation cost is low.
For customers who need a complete system include oil purification (dehydration, degasification and filtration) and oil regeneration, Model DVOP-R will provide you good service, the regeneration system can be switched on/off when needed. If you already have one Oil Purification Machine and need one regeneration unit, then our standalone Oil Regeneration Device will be the suitable model.
PureTech Transformer Oil Regeneration Machines are offered with optional spares & accessories:
(1) Programmable Logic Controller and Monitor Touch Screen
(2) Weather-proof enclosure and mobile Trailer
(3) Online Oil Testing Instruments like Oil flow meter, Water content tester, particle counter,etc.
Mode details please feel free to contact Puretech.