Description

of Mobile Oil Treatment Plant
PureTech Mobile Oil Treatment Plant for Power Transformer (Model DVOP) is mainly used for high voltage power transformers 400/230KV with different power capacity varies up to 300 MVA, 230/66KV with different power capacity varies up to 125 MVA. The oil treatment plant is capable to re-improve the power transformer oil characteristics up the required or recommended value by transformer manufacturers or IEC standards.
DVOP Double-stage High Vacuum Mobile Oil Treatment Plant is designed to carry out the operations and functions of filtration, dehydration and degasification of dielectric oil. It is workable for vacuum filling-up transformers with insulating oil and periodic maintenance at electricity transmission substations.
Performance

of

Mobile Oil Treatment Plant
• Moisture content shall be decreased to below 5 ppm according to IEC 60814 or ASTM D1533 standards.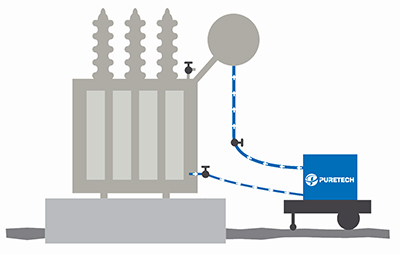 • Gas content shall be reduced down to below 0.1% according to the IEC 60567 or ASTM D2945 standard.
• Three stages of filter cartridges to reduce the particles over 1 micron in the oil.
• Dielectric strength of transformer oil shall be improved above 75KV.
Capacity of

Mobile Oil Treatment Plant
1. Oil flow rate ranges from 1,800 ltr/hr to 18,000 ltr/hr, suitable for various demands of transformer maintenance.
2. At least two-stage Heating with thermostat, ensure uniform heating and prevent overheating.
3. Double-stage vacuum pumps create and maintain sufficient and high vacuum level inside the oil treatment plant, maximumly ensure the efficiency and effect of oil dehydration/degassing.

4. Multi-stages filter cartridges keep the filtering precision higher than 1 micron.
5. Multi protection settings, oil level in the vacuum chamber works together with electrical heater and solenoid valve, phase-break protection, etc.
6. Oil treatment plant mounted on a mobile trailer with metallic cover. Easy to access and operate in different transmission substations.
7. Transformer vacuuming can be performed by this oil treatment plant (OPTIONAL).
6
Technical Parameters of Mobile Oil Treatment Plant
Machine Parameter

Item

Unit

DVOP

-30

DV

OP-50

DVOP-

75

DV

OP

-100

DVOP

-150

DVOP

-2

00

DV

OP

-3

00

Flow rate

liters/hour

1800

3000

4500

6000

9000

12000

1800

0

Vacuum degree

M

pa

(-0.08) ~ (-0.099)

Working pressure

Mpa

≤ 0.3

Temperature range

℃

40 ~ 80

Power supply

 

380Volts, 50Hz, 3Phase (

Note:

Power supply can be customized according to your local power.

)

Heating power

kw

24

30

48

60

90

120

13

0

Total power

kw

26

34

54

68

100

135

146

Inlet/o

utlet diameter

mm

32

32

44

44

50

58

65

Size

Length

mm

1250

1350

1550

1800

2000

2100

2300

Widt

h

mm

900

100

0

1150

1400

1750

185

0

2

000

Height

mm

1450

1500

1700

1750

1800

2250

2300

Weight

kg

500

600

800

1100

1300

1900

2300

Oil index aft

e

r

purification

Breakdown voltage

kV

≥75 (Spherical electrodes)

Water conte

nt

ppm

≤5

Gas content

%

≤0.1

Filtering accuracy

micron

1
* Please inquire us for other flow rates or types.
* The machine size and weight will change slightly due to different configurations.The machine size and weight will change slightly due to different configurations.
• Optional Parts provided for selection:
a) Fully automatic operation of the unit with PLC control, controlled by easy user interface. Touch panel for easy operation placed on the electrical cabinet.
b) Digital oil flow meter (oil flow counter) to display both the total flow and instantaneous flow.
c) Digital moisture content meter (hygrometer) to keep testing the ppm of electrical transformer oil.
d) Transformer evacuation function can be integrated into this oil filtration plant if required.
e) Mobile trailer and weather-proof canopy is recommended for outdoor service.
f) Other specific requirements if you have, we accept tailored options.
Worldwide Projects

on Transformer Oil Treatment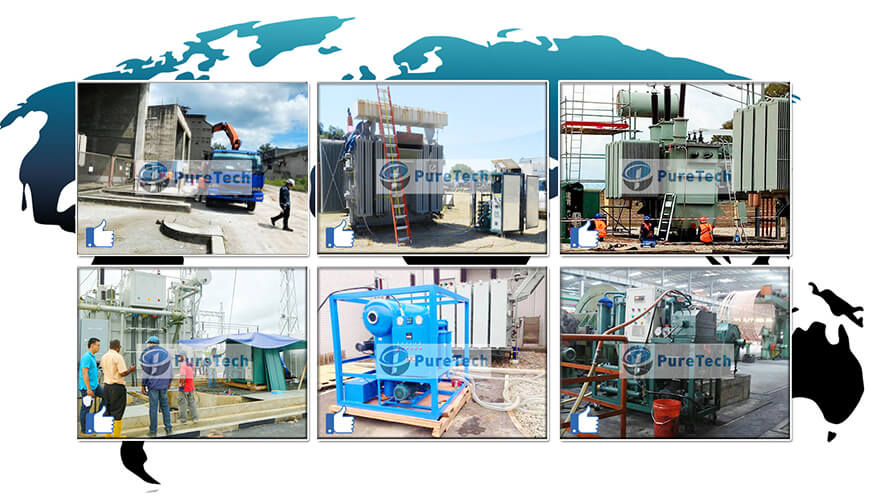 Our After-Sales Service for You
• 12 months of quality guarantee for non-human damage.
• Lifelong maintenance and spare parts supply.
• Free training on operation, maintenance and troubleshooting at PureTech factory.
• Puretech engineers go to customer site for commissioning and training (payable service).
• Design accept user's customization.