Application

of Transforme

r Oil Moisture Transmitter
PureTech Transformer oil moisture transmitter is designed for in-line detection and monitoring of moisture in oil, it enables a fast and reliable detection of mositure in transformer oil, hydraulic oil and other lubricating oils. After being installed in the oil processing machines, it is able to perform real-time monitoring of water content (ppm) and oil temperature (℃) in insulation oil or lubrication systems.
Moisture in oil affects dramatically the insulation characteristics of electrical transformer oil and therefore continuous monitoring is extremely necessary. The moisture transmitter of VAISALA brand from Finland has a stable and reliable performance, long service life, accurate detection and monitoring, digital display screen,etc.
Features of Transformer Oil

Moisture Transmitter
• Online, Fast and real-time detection and measurement of moisture in oil without sampling.
• Displays the true margin to water saturation point in all changing conditions, taking into account e.g. temperature changes and aging of oil.

• Moisture in Oil and temperature will be both displayed.
• International universal units : PPM (mass of water/ mass of oil).
• Easy field calibration and maintenance.
Technical Data of Transformer Oil Moisture Transmitter
Measurement Performance

Water Activity

Measurement range aw

0 … 1

Response time (90 %) at +20 °C in still oil (with stainless steel filter)

10 min

Sensor

HUMICAP 180L2

Accuracy (Including Non-linearity, Hysteresis, and Repeatability):

0 … 0.9

±0.02

0.9 … 1.0

±0.03

Temperature

Measurement range

-40 … +180 °C (-40 … +356 °F)

Accuracy at +20 °C (+68 °F)

±0.2 °C (0.36 °F)
Note: PureTech also supplys other brands moisture transmitter, please contact us for details.
P

ureTech Successful Projects

on Oil Purification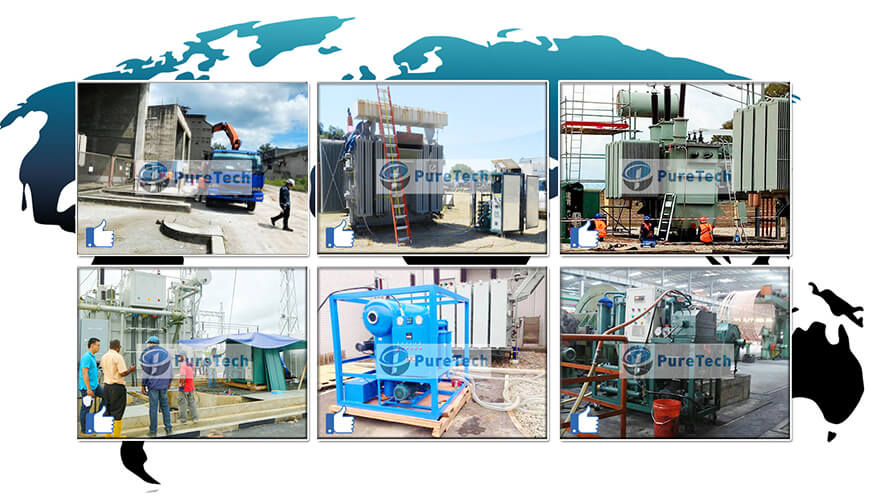 After-Sales Service
• 12 months of quality guarantee for non-human damage.
• Lifelong maintenance and spare parts supply.
• Free training on operation, maintenance and troubleshooting at PureTech factory.
• Puretech engineers go to customer site for commissioning and training (payable service).
• Design accept user's customization.