Hydraulic Oil Filtration and Recycling Machine


Description
Hydraulic oil may become contaminated due to several factors. The contamination occurs due to the presence of residues of machining and assembly, as well as the impurities contained in fresh oil, besides the contamination from machining residues, products of abrasion and corrosion, and dirt also affect the normal operation of hydraulic equipment and systems. Hydraulic oil purification should be a mandatory procedure, an important part of measures aimed at extension of service life of machinery and equipment and reduction failure rate.
PureTech Hydraulic Oil Filtration and Recycling Machine is an ideal equipment for periodic oil purification of hydraulic fluids, to imrpove the properties and chemical characteristics, prevent equipment failure. The general use of this hydraulic oil filtration machine is the removal of water and mechanical impurities contained in hydraulic oil. If the color of hydraulic oil is required to be restored, Hydraulic Oil Recycling Machine will be the suitable and economic solution.
Performances
• Water Removal – Remove 100% water contamination, water contamination can reduce the life of machinery by more than 50%.
• Solid Particle Filtration – Remove contamination down to 1 micron.
• Improve Oil Cleanliness – The cleanliness of oil will reach or above NAS 6 grade.
• Restore Oil Color – With hydraulic oil recycling plant, the oil color after recycling will be restored to its original color.
Features
• Effectively regenerate waste/black hydraulic oil without affecting the performance of the oil itself.
• Unique, special and integrated design, fully consider the convenience of operation and maintenance.
• Combine vacuum treatment, multi-stage filtration and other systems to ensure good performance.
• Suitable for hydraulic oils of all conditions, lightly contaminated or heavily contaminated.
• Reliable and good performance to recycle hydraulic oil, save the cost.
• Easy to operate, long service life.
P

ureTech Successful Projects

on Oil Purification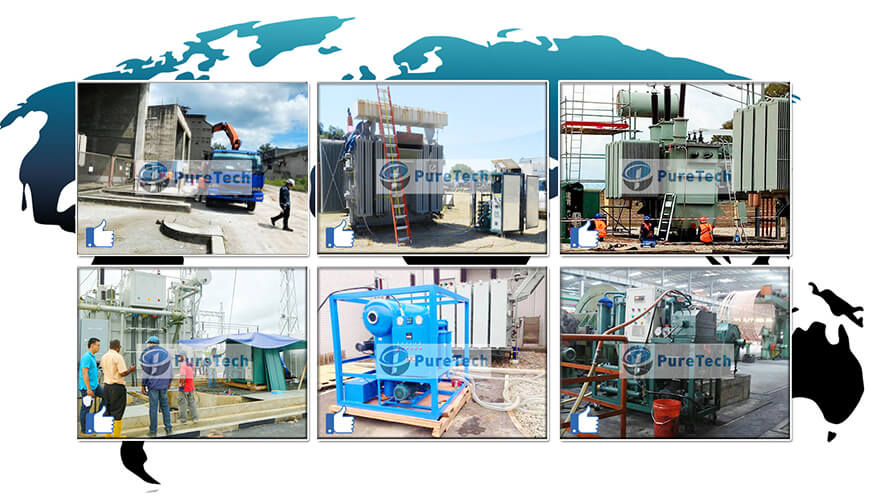 Our After-Sales Service for You
• 12 months of quality guarantee for non-human damage.
• Lifelong maintenance and spare parts supply.
• Free training on operation, maintenance and troubleshooting at PureTech factory.
• Puretech engineers go to customer site for commissioning and training (payable service).
• Design accept user's customization.