Application

| Transformer Dissolved Gas Analyzer
As a means of insulation supervision, in the past, DC leakage, insulation resistance, dielectric loss measurement, AC breakdown voltage test, partial discharge measurement and other insulation characteristic tests were commonly used. However, the disadvantage of these tests is that the equipment under test is required to be temporarily shut down, the insulation cannot be continuously monitored, and it is difficult to detect very small internal faults before the accident. Partial discharge test is a better method to detect local insulation defects, but under the existing instrument conditions, it is often affected by external interference, especially transformers, which affect the accuracy of its detection.
The use of Transformer Oil DGA Test kit (gas chromatography) to analyze the dissolved gas in the oil of oil-filled equipment is an effective preventive test method for detecting latent faults such as overheating and discharging of oil-filled equipment such as transformers, and the equipment under test does not need to be powered off, and a small amount of oil samples are taken. Analysis can determine the hidden dangers in the operation of the equipment, the nature and severity of latent failures, etc., which can be used to predict early, prevent accidents before they occur, and ensure the safe operation of oil-filled electrical equipment is of special significance. The actual developing faults can be overhauled in a planned and economical manner, thereby avoiding equipment damage and unplanned power outages.
Dissolved gas analysis of transformer oil contributes to the economic development with its advantages.
• DGA test of transformer oil can identify the relevance of equipment defects and operating conditions to ensure normal operating conditions for safe operation, such as load, temperature rise, etc., so as to prevent equipment from overheating damage.
• DGA Testing of transformer can help analyze the cause of gas relay action, so as to guide the elimination of the cause of gas relay action.
• For equipment that has been involved in an accident, transformer oil dga test kit is helpful to immediately understand the nature of the equipment accident and the extent of damage, so as to guide maintenance.
• Dissolved gas analysis can help ensure that the newly input equipment is not damaged.
Working Principle

|

Transformer Dissolved Gas Analyzer
Transformer Dissolved Gas Analyzer (Gas chromatography) adopts gas chromatograph analysis technology is a separation and analysis technology for multi-component mixtures. It mainly uses the difference in the boiling point, polarity and adsorption coefficient of each component in the sample to separate each component in the chromatographic column, and qualitatively and quantitatively analyze the separated components.
The gas chromatograph uses gas as the mobile phase (carrier gas). When the sample is fed into the sample inlet and vaporized, it is carried by the carrier gas into the packed column or capillary column. Due to the boiling point, polarity and adsorption coefficient of each component in the sample The difference between each component is separated in the column, and then the detector connected to the column will detect each component in sequence according to the physical and chemical characteristics of the component, and finally transmit the data to the chromatographic workstation through the serial port or the network. , The chromatographic workstation records and analyzes the gas chromatogram of each component to obtain the analysis report of each component.
Features

|

Transformer Dissolved Gas Analyzer
Brand-new production technology, redesign the gas source path and internal structure in the instrument, the layout of parts is more reasonable, the signal interference of components is reduced, the detection accuracy is improved, and the stability and durability of the transformer oil dissolved gas test kit are excellent.
• 7-inch color touch screen;
• Professional UI operation interface;
• Six-channel independent temperature control system;
• A variety of customized sample injectors;
• Chromatography technology of the Internet of Things.

Technical Data | Transformer Dissolved Gas Analyzer
n Working conditions

1

ambient temperature:

0~30℃

2

relative humidity:

less than 85%

3

Surroundings:

no strong electromagnetic interference around, no corrosive gas.

4

Placement:

the placement table should be stable, no strong vibration

5

Power Supply:

220V±10%, 50Hz± 0.5HZ

6

Total Power:

2 KW

n Technical Parameters

1

Gases of Analysis

þH2 þCO þCO2 þCH4 þC2H4 þC2H6 þC2H2 (7 Gases Test)

þH2 þCO þCO2 þCH4 þC2H4 þC2H6 þC2H2 þN2 þO2 (9 Gases Test)




2

Network anti-control system

The internal CAN method adopts the interface board design, which can be converted into the network port output at will

3

Signal output bits

24 bits

4

Communication Interface

Network interface output (category 6 network cable connection)

5

Circuit design

Using ARM embedded design, it is easy to realize wireless control, remote control and mobile APP control

6

Temperature Control System

6 routes independent temperature control

7

temperature control

Above room temperature -450℃, Optional: liquid nitrogen for refrigeration: -80℃-450℃

8

Oven temperature control accuracy

±0.02℃

9

Temperature program

36 steps, 0.1 degree/step

10

Display module

Large screen LCD display

11

Display accuracy

0.01℃

12

Oven lift rate

0-80℃/min (adjustment increment 0.1℃/min) up to 120℃/min

13

Program temperature repeatability

≤1%

14

TCD detector sensitivity

S value≥10000mv.ml/mg (benzene), up to 12000 mv.ml/mg (benzene)

15

Baseline noise

≤8uv

16

Baseline drift

≤20uv/30min

17

FID detector detection limit

≤3×10-12g/s (hexadecane)

18

Baseline noise

≤ 2×10-13A

19

Baseline drift

≤ 5×10-13A

20

ECD detector detection limit

≤3 x 10-14g/s(r-666)

21

Baseline noise

≤ 1×10-13A

22

Baseline drift

≤ 5×10-13A

23

FPD detector detection limit

≤2 x 10-11 g/s (Methyl parathion in sulfur)

24

Baseline noise

≤ 2×10-13A

25

Baseline drift

≤ 4×10-13A

26

Expand

6 external events can be added

27

Automation Engineering

Can be added: automatic ignition function, realization of autosampler connection, four-channel flow and pressure display function, and an anti-control workstation can be used to realize anti-control

n Dimension and Weight of Main Machine

1

Dimension

615mm (L) * 460 mm (H) * 470 mm (W)

2

Weight

65 KG approx.
P

ureTech Successful Projects

on Oil Purification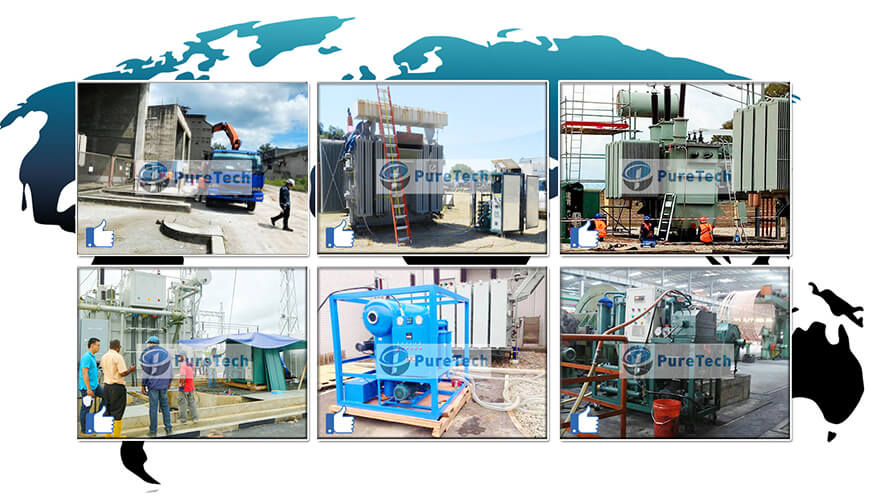 Our Service for You | PureTech Oil Filtration
• 12 months of quality guarantee for non-human damage.
• Lifelong maintenance and spare parts supply.
• Free training on operation, maintenance and troubleshooting at PureTech factory.
• Puretech engineers go to customer site for commissioning and training (payable service).
• Design accept user's customization.