Application

| Automatic Transformer Turns Ratio Tester (TTR Tester)
In the production process of semi-finished and finished power transformers, before the newly installed transformer is put into operation and according to the preventive test regulations of the Ministry of Electric Power, it is required to test the turns ratio or voltage ratio of the operating transformer, and the transformer turns ratio can be checked. The correctness, the condition of the tap changer, whether the transformer is short-circuited between turns, and whether the transformer can be operated in parallel.
The traditional turns ratio uses the turns ratio bridge to measure the turns ratio of the transformer. The operation process is cumbersome, the measurement range is narrow, and the readings are not intuitive. The bridge has to be converted and can only be measured phase by phase, which is no longer suitable for the requirements of fast and high efficiency modern measurement. Therefore, PureTech develops a new generation of HVBB automatic turns ratio tester (TTR tester) which adopts modern electronic technology.
The HVBB transformer ratio tester overcomes the shortcomings of the traditional turns ratio bridge test. The operation is simple and intuitive. It adopts a three-phase precision inverter power supply, which is fast and accurate. It has small size, light weight, high precision and good stability. It uses a large-screen display, menu operation, and a friendly interface. The turns ratio group can be tested at one time. This instrument is an ideal test instrument for the electric power industry sector.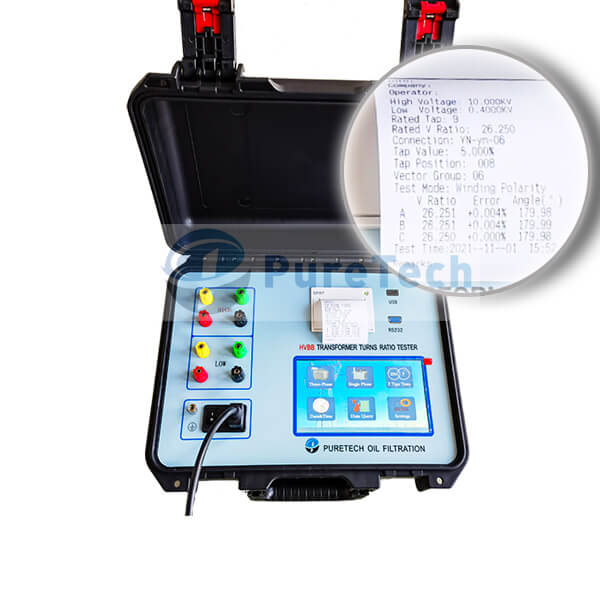 Features

|

Automatic Transformer Turns Ratio Tester

(TTR Tester)
• Automatically measure the wiring group.
• Automatic group change.
• Automatically switch the phase sequence.
• Built-in printer.
• Automatically switch the range.
• Automatic meter calibration.
• After inputting the standard turns ratio, the relative error can be automatically calculated.
• After one measurement is completed, the test voltage is automatically cut off.

• Set the data, the measurement results are automatically saved, and the previous data can be viewed.
• Measure the on-load transformer, and input the ratio only once.
Technical Data | Automatic Transformer Turns Ratio Tester (TTR Tester)
TECHNICAL SPECIFICATIONS

SCOPE OF SUPPLY

Power supply: AC220V ±10%, 50±1Hz

- Tester Main Machine * 1 Set

Measuring Range: 0.9 ~ 10000

- Test Wire Box with wires * 1 Set

Accuracy:

- Power cable * 1 pcs

• 0.9-500 ±0.1%

- Instruction Manual * 1 pcs

• 501-2000 ±0.2%

- Factory Inspection Report * 1 pcs

• 2001-10000 ±0.5%

Resolution: minimum 0.0001

Output voltage: Automatically adjust according to load

Ambient temperature: -10℃~40℃

Relative humidity: ≤85%, no condensation

Dimension and Weight:

• Main Machine, 360 * 290 * 170 mm; 6 KG

• Wire box, 360 * 290 * 170 mm; 5.7 KG
P

ureTech Successful Projects

on Oil Purification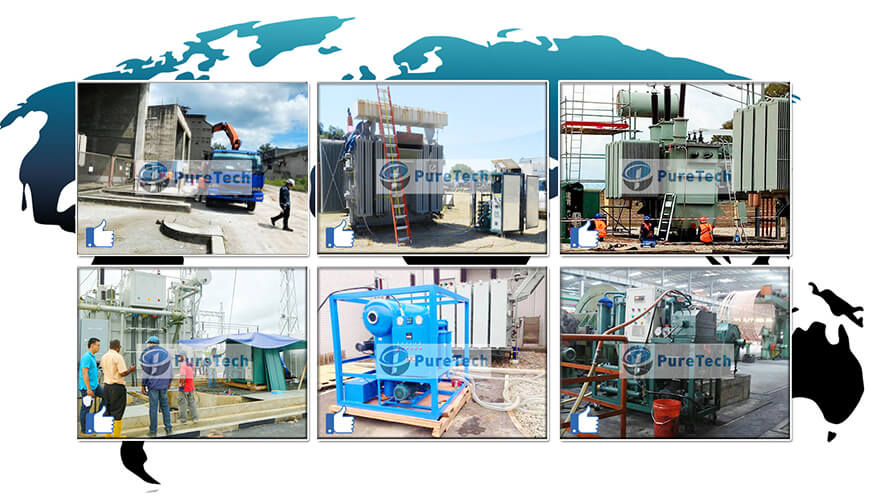 Our Service for You | PureTech Oil Filtration
• 12 months of quality guarantee for non-human damage.
• Lifelong maintenance and spare parts supply.
• Free training on operation, maintenance and troubleshooting at PureTech factory.
• Puretech engineers go to customer site for commissioning and training (payable service).
• Design accept user's customization.