Description of Turbine Oil Filtration Machine
PureTech Turbine oil filtration machine is widely used in hydro power station, metallurgy and other industries to purify turbine oil of steam turbines, water turbines, fuel engines and steam turbine units. It can demulsify, dehydrate and purify heavy emulsified turbine oil and low viscosity lubricant mixed with water. It can also be used for other mechanical plants.
It is suitable for treatment of steam turbine oil (VG32, VG46, etc.), it adopts the latest technologies, which integrates gravity, sedimentation, reunion, vacuum separation, adsorption, separation and pressure filtration into one machine. With super strong demulsification (emulsion breaking), dehydration, deaeration, and impurity removal capabilities, it is an ideal equipment for processing steam turbine oil, low viscosity lubricating oil and hydraulic oil. It is especially suitable for used turbine oil with large water content and being seriously emulsified.
By removing contaminants (water, particles, impurities, etc.) from turbine oil, and avoiding sludge accumlation caused by oil oxidation during operation, which in return ensures the smooth and safe operation of steam turbine system.
PureTech Vacuum Turbine Oil Filtration Machine is one kind of supportive online oil purifying device that is equipped for hydro-turbines, turbines and other lubrication sets.
Performance of Turbine Oil Filtration Machine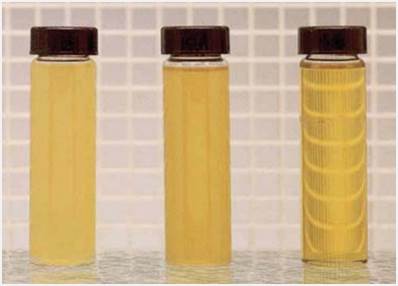 • Water content shall be decreased to less than 50 ppm.
• Total gas content shall be reduced down to less than 0.1%.
• Three stages of filters to ensure the filtering precision of 1 micron.
• Demulsifying value by thermal vacuum Turbine Oil Purifier is less than 15 min.
• Cleanliness of turbine oil after purification will reach or better than NAS 6 grade.
Features of Turbine Oil Filtration Machine
• Oil flow range from 1800 l/h up to 18000 l/h for selection according to the actual demands.
• Demulsifying filters are designed especially for emulsion breaking, it makes up for the technical defect that the centrifuge cannot handle emulsified oil.
• Electrical heater is equipped with thermostat, avoid overheating of turbine oil.
• Design of thermal vacuum (vacuum & heating) to promote the efficiency of turbine oil purification.
• Integrated three-stage filtering system ensures the high filtering precision.
• Mobile Type, Continuous working and available for online processing of turbine oil after connecting with the lubricating oil tank of steam turbine.

• Power supply can be customized according to your local power.
• Optional Parts provided for selection:
a) Fully automatic panel of the unit with PLC, controlled by easy user interface. Touch panel for easy operation placed on the electrical cabinet.
b) Digital oil flow indicator to display both the total flow and instantaneous flow.
c) Digital moisture content meter (hygrometer) to keep testing the ppm of electrical transformer oil.
d) Other specific requirements if you have, we accept tailored demands.
Specification of Turbine Oil Filtration Machine
Machine Parameter

Item

Unit

TOP

-10

T

OP-20

TOP-

30

TOP

-50

TOP

-100

TOP

-15

0

T

OP

-2

00

Flow rate

liters/hour

600

1200

1800

3000

6000

9000

1200

0

Vacuum degree

M

pa

(-0.08) ~ (-0.099)

Working pressure

Mpa

≤ 0.3

Temperature range

℃

40 ~ 80

Power supply

 

380Volts, 50Hz, 3Phase (Or customized)

Heating power

kw

9

15

24

30

60

90

96

Total power

kw

10.5

17

26

33

66

98

106

Inlet/o

utlet diameter

mm

19

25

32

32

48

50

58

Size

Length

mm

930

1200

1400

1500

1650

1750

1900

Widt

h

mm

610

710

850

950

1200

1200

1250

Height

mm

1280

1290

1300

1400

1800

1820

1950

Weight

kg

210

250

280

350

650

1150

1300

Oil index aft

e

r

purification

Cleanliness

NAS

≤

6

Water conte

nt

ppm

≤50

Filtering accuracy

micron

1

Demulsification value (

emulsion breaking

)

min

≤ 15
* Please inquire us for other flow rates or types.
* The machine size and weight will change slightly due to different configurations.
P

ureTech Successful Projects

on Oil Purification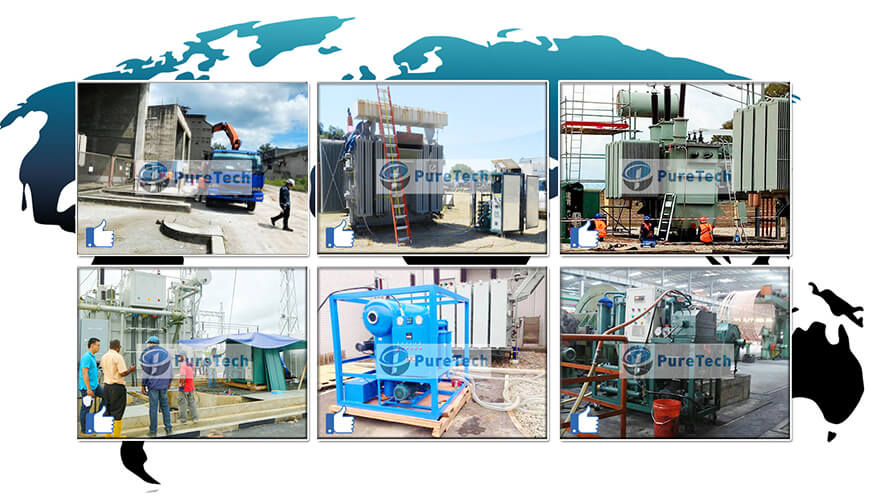 Our After-Sales Service for You
• 12 months of quality guarantee for non-human damage.
• Lifelong maintenance and spare parts supply.
• Free training on operation, maintenance and troubleshooting at PureTech factory.
• Puretech engineers go to customer site for commissioning and training (payable service).
• Design accept user's customization.