Application

of Portable Press Oil Filter Carts
Plate and Frame Filter Press (Model PF) is also called as Press Oil Filter and Pressure Oil Purifier. It applys to power plant, power station, industrial and mining, power transmission and distribution, cement, metallurgy, national defense industry and other industrials. it is mainly used to filter transformer oil, turbine oil, anti-wear hydraulic oil, gear oil, machinery oil and other lubricants moisture and impurities. It is the ideal equipment for pre-filtration of vacuum Oil Purifier.
Model PF Press Filter Carts is comsisted of oil pump, filter frame, filter plate and filter papers for removal of less water and particulate. Between the filter plate and frame are the filter papers through which the oil will be filtered. The filter papers only let the fluids pass through. During the filtering process, the filter papers will block the solid particles and absorb few water. Such solids builds up on the papers and leads to an increase in pressure. After the pressure reaches a certain level, the filter papers need to be replaced.

Fea

tures

of

Portable Press Oil Filter Carts
• High filtration precision, simple structure, easy operation, low operation cost.
• Low noise and stable performance.
• Portable type, flexible and light, easy to transfer in different work places.
• Long service life, safe operation and environmental friendly.
• Push-button on-off switch to easy operation.
• Pressure gauge indicate the condition of filter frame and change of filter papers.

• A strainer is installed on the oil inlet to protect oil pump .

Specification of Portable Press Oil Filter Carts
Model

PF-30

PF-50

PF-100

PF-125

PF-150

PF-200

PF-300

Capacity, Liters/hour

1800

3000

6000

7500

9000

12000

18000

Working pressure, Mpa

0 ~ 0.5

Power supply

380V, 50Hz, 3Phase or as needed

Filter area, m2

0.38

0.52

1.57

1.88

2.35

2.67

4.08

Plate dimension, mm

180*180

280*280

Number of frames

11

13

10

12

14

15

26

Number of plates

12

14

11

13

15

16

27

Total Power, KW

1.1

1.5

2.2

2.2

3

3

5.5

Dimension

Length, mm

800

820

900

1150

1200

Width, mm

300

410

410

430

450

Height, mm

650

850

850

920

950

Weight, Kg

150

185

280

295

320

320

350
* Please inquire us for other flow rates or types.
* The machine size and weight will change slightly due to different configurations.The machine size and weight will change slightly due to different configurations.
P

ureTech Successful Projects

on Oil Purification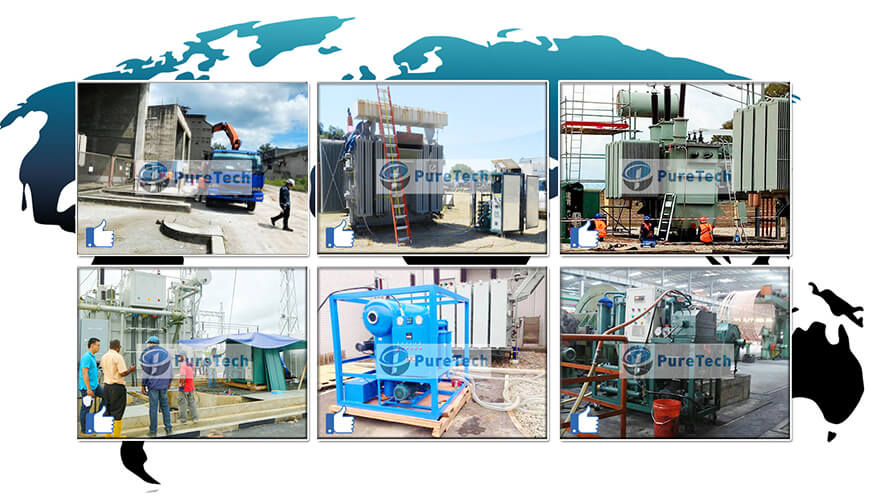 After-Sales Service
• 12 months of quality guarantee for non-human damage.
• Lifelong maintenance and spare parts supply.
• Free training on operation, maintenance and troubleshooting at PureTech factory.
• Puretech engineers go to customer site for commissioning and training (payable service).
• Design accept user's customization.