Application

| Waste Tire Pyrolysis Oil Distillation Plant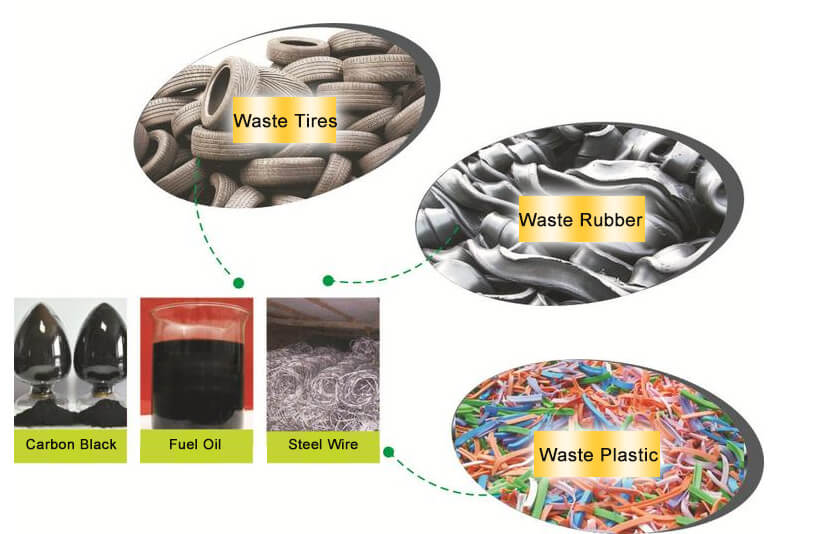 As more and more waste tires, waste rubber and waste plastics are produced, the pollution they bring is getting heavier. Therefore, it is very urgent and important to find a suitable method for disposing of waste tires and rubber. So far, to dispose waste tires, there are mainly the following methods:
1) Pile up to landfill;
2) Recycle heat by burning and incineration;
3) Tire retreading;
4) Waste tire recycling to reclaimed rubber.

However, the above methods are not your best choice, these processing ways cause big waste of the raw material, also generate heavy pollution to the environment. In view of this current situation, we recommend you the pyrolysis process as a new and clean solution to recycle the waste tires. PureTech Model TPD Waste Tire Pyrolysis Oil Distillation Plant is designed and manufactured to solve the problem of disposal of waste tires and rubber. It not only treats waste tires and reduces the pollution caused by waste tires. At the same time, it can turn waste into treasure and convert useless waste tires into valuable energy and materials, such as fuel oil, carbon black and steel wire.
Advantages

|

Waste Tire Pyrolysis Oil Distillation Plant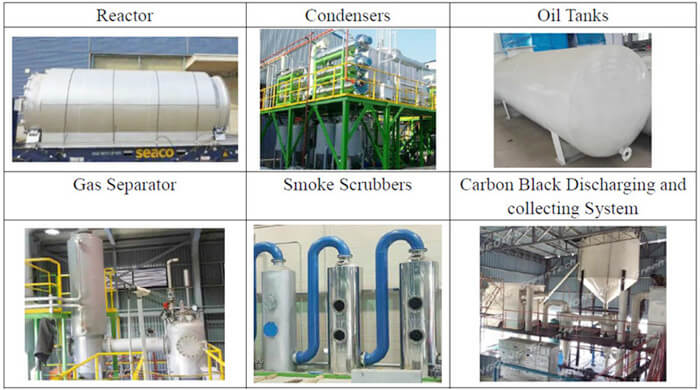 • Fully open door: convenient and fast loading, fast cooling, convenient and quick wire drawing;

• Thorough cooling of the condenser, high oil output rate, good oil quality, long service life, and easy cleaning;

• Original water mode desulfurization and dust removal: It can effectively remove acid gas and dust and meet the relevant national standards;
• Slag discharge from the center of the large furnace door: airtight, automatic slag discharge, clean and dust-free, and save time;
• Safety: automatic submerged arc welding technology, ultrasonic non-destructive testing , Manual and automatic safety devices;
• Exhaust gas recovery system: fully burned after recovery, save fuel and prevent pollution;
• Direct heating: special process, increase the heating area of the furnace body, rapid heating, easy control of temperature, and effectively extend the use of equipment Life;
• Unique thermal insulation shell design: excellent thermal insulation effect, good energy-saving effect.
Working Flow

|

Waste Tire Pyrolysis Oil Distillation Plant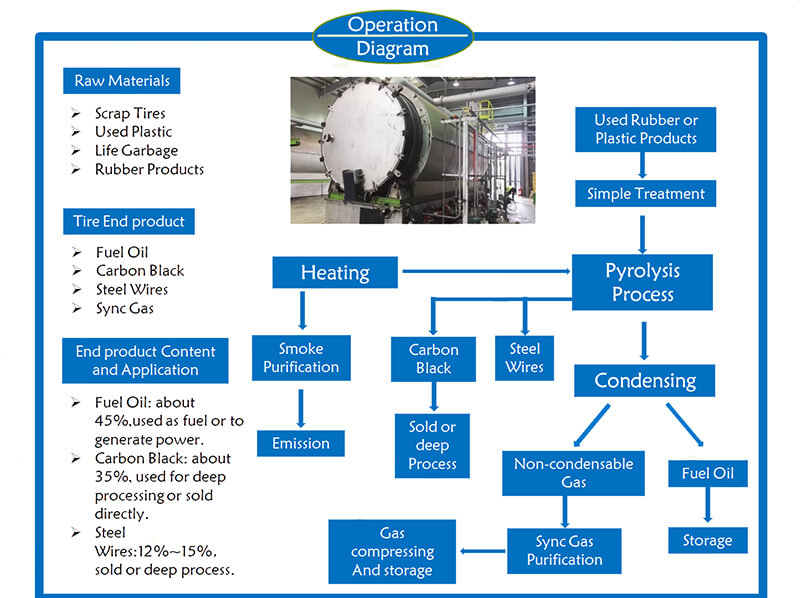 Tire is mainly composed of rubber (include natural rubber and synthetic rubber), carbon black and many other organic and inorganic addition agents (include plasticizer, antiager, sulphur, zinc oxide, etc). Waste tire pyrolysis means the process that under a sealed furnace with proper heating, the main chain of the rubber in tires cracked into monomer, biopolymer and fragments, which then be polymerized to many kinds of olefins, thus get rid of the volatile substances to solid carbon. The main end products are fuel oil, pyrolysis gas, carbon black and steel wire. The composition of every product is different as different pyrolysis methods, temperature, etc.
Through tire pyrolysis process, it could recycle waste tires to renewable energy, also without generating secondary pollution to the environment. And PureTech' s new type waste tire pyrolysis plants are all equipped with smoke cleaning system, tail gas cleaning system, bad smell removal system and water circulation system, thus to keep no pollution to both the air and water.
The final products after the pyrolysis process of waste tires, waste plastics, and rubber products include: fuel oil, steel wire, carbon black, and combustible gas, and their uses are:
(1)Fuel oil: as a fuel used widely in industrial enterprises such as steel plants, ceramic factories, chemical enterprises, and engineering machinery, etc., and can also be used as fuel oil for power generation by heavy oil engines.
(2)Steel wire: Only waste tire pyrolysis can produce steel wire. The content in the tire is 12%-15%, which can be reprocessed.
(3)Carbon black: Coarse carbon black can be used as a raw material for building bricks, and can also be further processed into industrial carbon black, semi-reinforcing carbon black, color, plain carbon black, and has a wide range of applications.
(4)Combustible gas: The content is about 5%, which can be recycled and used in the production process as a fuel for production.
Technical Parameters

|

Waste Tire Pyrolysis Oil Distillation Plant
* Please inquire us about the technical specifications as per your desired capacity.
* Delivery date around 40~60 days, please confirm with us before placing order.
* This plant requires on-site installation and commissioning, please consult us.

Service

|

Waste Tire Pyrolysis Oil Distillation Plant
• 12 months of quality guarantee for non-human damage.
• Lifelong maintenance and spare parts supply.
• Free training on operation, maintenance and troubleshooting at PureTech factory.
• Puretech engineers go to customer site for installation guide, commissioning and training (charge service).
• Design accept user's customization.