Application of Transformer Air Drying Machine
The PureTech Air Drying Machine (Model DAG) is also called as Dry Air Generator or Air Dryer, it is used to supply dry and clean air for power transformers and other electrical equipment.
It can supply dry and clean air to the container or interior zone quickly, continuously and effectively . This air drying machine is designed to supply drying air when engineers are working inside the transformers during installation and maintenance, so as to keep the inner components of transformers from the moisture,and meanwhile provide purified dry air for engineers, so the maintenance staff will not be short of oxygen when working inside.
Compared with the traditional way of "Nitrogen-Filling", Air Drying Machine is a safer, reliable and more economic equipment necessary for transformer maintenance. It will shorten the maintenance period and greatly improve the efficiency of maintenance quality.
Composition of Transformer Air Drying Machine

PureTech Air Drying Machine uses an air compression system, refrigerated air drying system, adsorption drying system, air purification system and PLC control system. With a unique design of "Double-Tank" , it can work continuously without stop, the two tanks will change automatically when the moisture reaches satuation, and start drying itself.
Features of Transformer Air Drying Machine



• Continuous and reliable working without supervision, multi protection devices are installed to ensure performance.
• Main components are from world famous brands to ensure the reliable quality.
• Advanced and reliable PLC control unit is integrated, which characterizes automatic timing, automatic switch of work.
• Operating parameters can be displayed and monitored on the screen of electrical control cabinet.
• Intelligent design makes operation much easier and safer.
* For outdoor use, waterproofing cover is recommended.

Technical Parameters of Transformer Air Drying Machine
Item

Unit

DAG-40

DAG-120

DAG-

200

DAG

-300

DAG-400

DAG

-5

00

DAG-16

00

Air supply capacity

m

3

/hour

40

120

200

300

400

500

600

Dew point

℃

≤ (-55) ~ (-70)




Working pressure

Mpa

≤ 0.7 ~ 0.8

Air pressure




Mpa




0.01 ~ 0.8 (adjustable)

Air filtration precision

micron

≤ 0.01

Power supply

380Volts, 50Hz, 3Phase (Or customized)

Working mode




Continuous working with twin tower automatically shift, heatless regeneration of desiccants

Desiccants material




Activated aluminum oxide

Size

Length

mm

800

2240

2300

2300

2350

2950

3150

Widt

h

mm

1850

1690

1950

2000

2050

2100

2200

Height

mm

1540

2400

2400

2430

2450

2750

2800

Weight

kg

800

1350

2100

2360

2850

3500

3780
* The machine size and weight will change slightly due to different configurations.The machine size and weight will change slightly due to different configurations.
P

ureTech Successful Projects Worldwide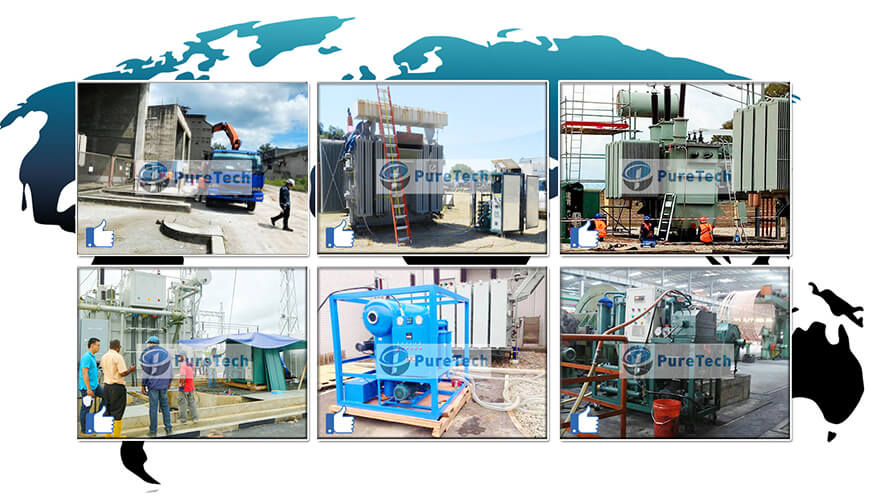 Our After-Sales Service for You
• 12 months of quality guarantee for non-human damage.
• Lifelong maintenance and spare parts supply.
• Free training on operation, maintenance and troubleshooting at PureTech factory.
• Puretech engineers go to customer site for commissioning and training (payable service).
• Design accept user's customization.