Description of Turbine Oil Varnish-Removal Purification
It is generally recognized that water (free, dissolved and emulsified water) is an enemy of turbine lubricating oils. In order to remove water and impurities from turbine oil, centrifuge separators is commonly used in power stations nowadays.
But centrifuge separator can only remove free water from turbine oil, it cannot remove emulsified water, and because of the high-speed centrifugal force, the oil will be further emulsified. What's more, the emulsified water acts as a catalyst to further increase oxidation, causing oil to foam and shortening service life of core components.
One of the main problems with persistent water in turbine oil is the formation of varnish, which is an insoluble thin film deposit that is commonly found on bearings and servo valves. Centrifuge separators cannot remove varnish from turbine oil either.
The thermal-vacuum type turbine oil varnish-removal purification machine (model TOP) by PureTech is designed to remove contaminants, and continuous circulation of the turbine oil ensures that even the smallest contaminants, varnishes and sludge, will be removed, providing ultra-clean oil for power generating process.
Performance of Turbine Oil Varnish-Removal Purification

• Water content shall be decreased to less than 50 ppm.
• Total gas content shall be reduced down to less than 0.1%.
• Three stages of filters to ensure the filtering precision of 1 micron.
• Demulsifying value by thermal vacuum turbine oil purifier is less than 15 min.
• Cleanliness of turbine oil after purification will reach or better than NAS 6 grade.
• Remove varnish and sludges which cannot be removed by centrifuge separators.

Features

of

Turbine Oil Varnish-Removal Purification
• Oil flow range from 600 liters/hour up to 18000 liters/hour for selection according to the actual demands.
• Demulsifying chamber is designed especially for emulsion breaking, it makes up for the technical defect that the centrifuge cannot remove emulsified water.
• Electrical heater is equipped with thermostat, avoid overheating of turbine oil.
• Design of thermal vacuum (vacuum & heating) to promote the efficiency of turbine oil dehydration.
• Integrated three-stage filtering system ensures the high filtering precision.
• Mobile Type, Continuous working and available for online processing of turbine oil after connecting with the lubricating oil tank of steam turbine.

• Power supply can be customized according to your local power.
Technical Parameters of Turbine Oil Varnish-Removal Purification
Machine Parameter

Item

Unit

TOP

-10

T

OP-20

TOP-

30

TOP

-50

TOP

-100

TOP

-15

0

T

OP

-2

00

Flow rate

liters/hour

600

1200

1800

3000

6000

9000

1200

0

Vacuum degree

M

pa

(-0.08) ~ (-0.099)

Working pressure

Mpa

≤ 0.3

Temperature range

℃

40 ~ 80

Power supply

 

380Volts, 50Hz, 3Phase (Or customized)

Heating power

kw

9

15

24

30

60

90

96

Total power

kw

10.5

17

26

33

66

98

106

Inlet/o

utlet diameter

mm

19

25

32

32

48

50

58

Size

Length

mm

930

1200

1400

1500

1650

1750

1900

Widt

h

mm

610

710

850

950

1200

1200

1250

Height

mm

1280

1290

1300

1400

1800

1820

1950

Weight

kg

210

250

280

350

650

1150

1300

Oil index aft

e

r

purification

Cleanliness

NAS

≤

6

Water conte

nt

ppm

≤50

Filtering accuracy

micron

1

Demulsification value (

emulsion breaking

)

min

≤ 15
* Please inquire us for other flow rates or types.
* The machine size and weight will change slightly due to different configurations.
* Customizing equipment is available on request.

PureTech's Oil Purification Projects

Worldwide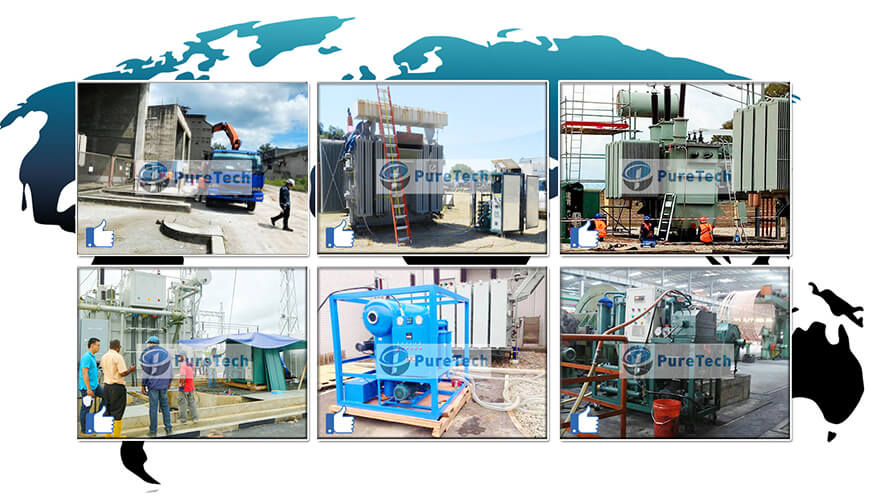 Our After-sale Service for You !
• 12 months of quality guarantee for non-human damage.
• Lifelong maintenance and spare parts supply.
• Free training on operation, maintenance and troubleshooting at PureTech factory.
• Puretech engineers go to customer site for commissioning and training (payable service).
• Design accept user's customization.