Application of Dry Air Generator For Transformer
The PureTech dry air generator for transformer is designed to provide high-purity dry air with a dew point as high as -55℃~-70℃ during installation and maintenance of large power equipment such as transformers and reactors. It can replace traditional hot oil circulation, supplementary air pumping, etc. The drying method is more efficient, economical, safe and environmentally friendly.
When using DAG series dry air generators for electrical equipment installation and maintenance, it will not be affected by changes in external climate conditions, especially overnight operations. You only need to seal all the flanges and fill with dry air to reach 0.02~0.03Mpa. There is no need for oil injection, nitrogen replenishment, vacuuming, etc., and power equipment such as transformers and reactors will not be damp, greatly reducing the workload, shortening the construction period, and improving the quality of installation and maintenance. DAG series dry air generators are also suitable for air drying and circulating drying in warehouses, packaging, electronics, medicine and other industries. It is also suitable for drying nitrogen, generator set hydrogen and SF6 equipment. Instead of the traditional dry explosion method, it is efficient, economic, safe and environmentally friendly. It integrates air compression, cold drying and adsorption, and can be moved freely.
Working Principle of Dry Air Generator For Transformer

The air enters the gas storage tank through the air compressor, most of the water is compressed and liquefied and discharged through the drain valve, and the air is dried for the first time: then enters the refrigerated dryer, the water vapor is condensed into water, and the air is dried for the second time: then Enter the adsorption dryer for the third drying, absorb the remaining trace moisture, and finally transport it to the equipment requiring dry gas through a high-precision air filter.
DAG series dry air generators can continuously provide dry air and are equipped with two adsorption tanks. When one tank is drying the air, the other can automatically dry the adsorption material, so as to save time and improve work efficiency.

Structure of Dry Air Generator For Transformer



PureTech DAG dry air generator is a mobile high-purity dry air generator composed of air source system, freeze drying system, adsorption drying system, air filtration system and PLC intelligent electrical control system.

• Air source system composition: It is composed of dust filter, screw air compressor, radiator (air-cooled), air-water separator and filter, and outputs clean and oil-free gas.

• Composition of freeze-drying system: This device mainly adopts a fully enclosed high-temperature compression refrigeration unit, which has stable and reliable performance and can obtain greater cooling capacity. The system configuration adopts imported fully enclosed compressor units, air heat exchangers, evaporators, gas-water separators and fine filters; the refrigeration process R22 refrigerant first consists of a fully enclosed high-temperature compression refrigeration compressor, cooler, desiccant, electromagnetic The valve is finally returned to the refrigeration compressor through the evaporator, and a 0-5℃ low temperature environment is obtained inside the evaporator.
• Advanced and reliable PLC control unit is integrated, which characterizes automatic timing, automatic switch of work.
• Electrical control: Schneider Electric is used for the main control electrical part; the electrical performance of the whole machine is stable, safe and reliable.
• Intelligent design makes operation much easier and safer.
Technical Parameters of Dry Air Generator For Transformer
Item

Unit

DAG-40

DAG-120

DAG-

200

DAG

-300

DAG-400

DAG

-5

00

DAG-16

00

Air supply capacity

m

3

/hour

40

120

200

300

400

500

600

Dew point

℃

≤ (-55) ~ (-70)




Working pressure

Mpa

≤ 0.7 ~ 0.8

Air pressure




Mpa




0.01 ~ 0.8 (adjustable)

Air filtration precision

micron

≤ 0.01

Power supply

380Volts, 50Hz, 3Phase (Or customized)

Working mode




Continuous working with twin tower automatically shift, heatless regeneration of desiccants

Desiccants material




Activated aluminum oxide

Size

Length

mm

800

2240

2300

2300

2350

2950

3150

Widt

h

mm

1850

1690

1950

2000

2050

2100

2200

Height

mm

1540

2400

2400

2430

2450

2750

2800

Weight

kg

800

1350

2100

2360

2850

3500

3780
* The machine size and weight will change slightly due to different configurations.
P

ureTech Successful Projects Worldwide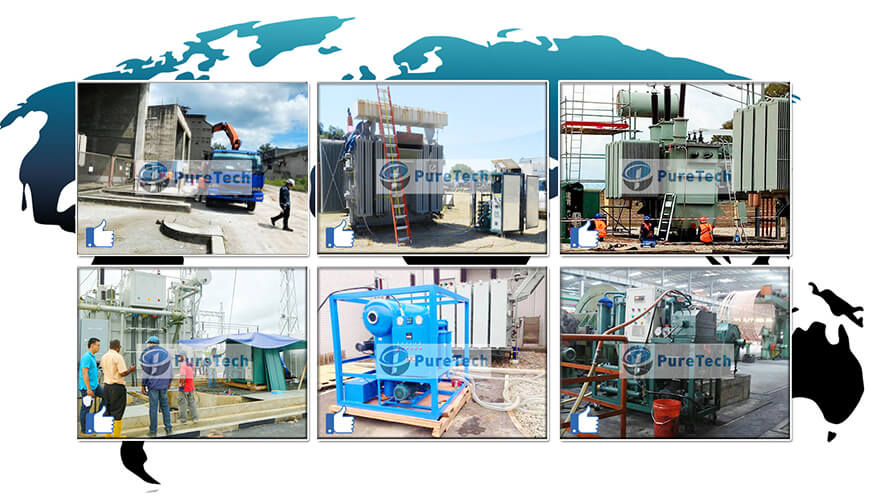 Our After-Sales Service for You
• 12 months of quality guarantee for non-human damage.
• Lifelong maintenance and spare parts supply.
• Free training on operation, maintenance and troubleshooting at PureTech factory.
• Puretech engineers go to customer site for commissioning and training (payable service).
• Design accept user's customization.