Application of Oil Coalescing Separator
PureTech Oil Coalescing Separation and Filtration System (Model COP) is designed to completely solve the problem of excessive water content in the fuel oil, hydraulic, lubrication and speed control system of steam turbine. By adopting the "coalescing and separating" dehydration technology, as well as multi-stage filtering technology into one system, model COP is ideal for efficient and cost effective removal of contamination (water, particles, mechanical impurities) contained in the oil, and achieve ideal cleanliness to ensure the normal and sustainable operation of lubricating system.
Model COP integrates two functions of precision filtration and high efficiency dehydration. High efficient coalescer and separator filtering elements are designed to quickly remove large amounts of water and bring overall water content down to 100 PPM.Meanwhile, the high precision micro-filter elements are capable of removing 99% of particles over 1 micron. It can effectively remove particle pollutants, emulsified water, dissolved water, free water and filtration accuracy can reach NAS4-6 level.
Besides, Oil Coalescing Separation and Filtration System can also be used for purification of industrial low viscosity lube oil, hydraulic oil, light fuel etc.
Fea

tures

of

Oil Coalescing Separator
• Low watt density electrical heater with thermostat to avoid overheating.
• Rapidly removing large amount free & emulsified water from oil and as low as 100 PPM.
• Removing particles and maintain the oil cleanliness at or better than NAS 6 grade.
• Skid-mounted type with compact structure, light weight, simple and reliable operation, low maintenance cost.
• The coalescence oil separator elements are normally constructed using a pre-filter stage to protect the coalesce filters.
• Low consumable and maintenance cost.

• Designed for use on turbine lube oil, hydraulic oil, diesel fuel, heat transfer oil, dielectric oil etc.
Specification of Oil Coalescing Separator
Item

Unit

COP-5

0

COP-100

COP-150

COP-200

COP-300

Machine Parameter
Capacity
Liters/hour
3000
6000
9000
12000
18000

Working pressure

Mpa

≤ 1

Power supply
 
380V, 50Hz, 3Phase or as needed

Continuous working

hour

≥ 300

Mean Time Between Failure
hour
≥ 5000

Total Power

KW

1.8

2.5

3.3

4.3

5.3

Inlet/Outlet Diameter
mm
32
44
50
58
65

Dimen

sion

Length

mm

1550

1600

1650

1700

1850

Width
mm
950
1000
1030
1100
1200

Height

mm

1600

1650

1700

1750

1850

Weight
Kg
450
520
760
900
980
Oil index after purification

Water content

PPM

≤ 100

Cleanliness
NAS
4 ~ 6

Filtering accuracy

micron

≤ 1
* OPTIONAL CONFIGURATIONS: PLC automatic control system, Fully-Touch Screen, Explosion-proof type, Mobile Trailer, Weather-proof Enclosure, Online Oil Testing Instruments, etc.
* Please inquire us for other flow rates or types.
* The machine size and weight will change slightly due to different configurations.The machine size and weight will change slightly due to different configurations.
P

ureTech Successful Projects

on Oil Purification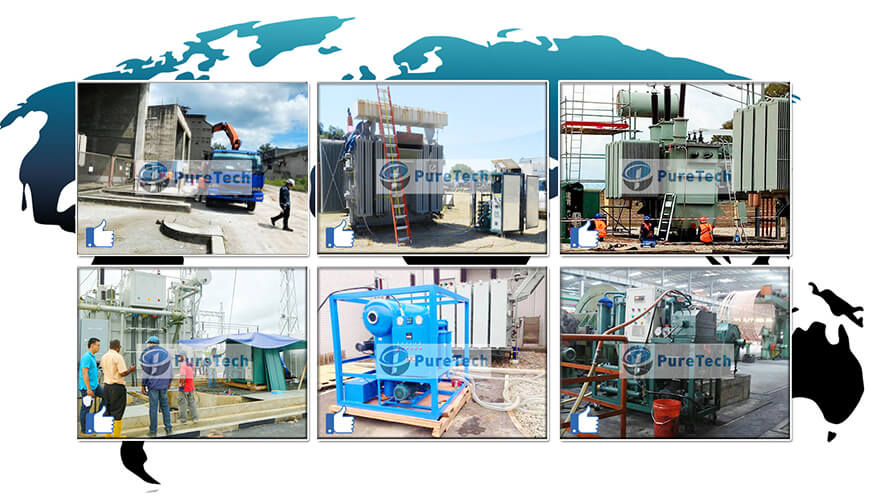 Our After-Sales Service for You
• 12 months of quality guarantee for non-human damage.
• Lifelong maintenance and spare parts supply.
• Free training on operation, maintenance and troubleshooting at PureTech factory.
• Puretech engineers go to customer site for commissioning and training (payable service).
• Design accept user's customization.