Application

|

Moisture and Temperature Transmitter In Oil
The EE364 from Austria E+E brand is an innovative moisture in oil transmitter, suitable for OEM applications. The high measurement accuracy and excellent long-term stability make the EE364 ideal for online monitoring of moisture in transformer, lubricating and hydraulic oil, as well as diesel fuel. The compact design and rugged stainless steel housing allow a space-saving installation in the most demanding applications. The EE364 measures water activity (aw), oil temperature (t) and calculates the absolute water content (ppm). The measured values are available on two 4-20mA outputs and one digital output with MODBUS RTU interface. The analog outputs can be individually scaled and configured using the optional converter cable and the free EE-PCS Product Configuration software.
Its main applications for monitoring moisture in oils:
Transformer oil √ Lubrication oil √ Hydraulic oil √ Engine oil √ Diesel fuel √ etc.


Features

|

Moisture and Temperature Transmitter In Oil

• Online, Fast and real-time detection and measurement of moisture in oil without sampling.
• Measurement of water activity (aw), temperature and water content (ppm).
• Displays the true margin to water saturation point in all changing conditions, taking into account e.g. temperature changes and aging of oil.
• International universal units : PPM (mass of water/ mass of oil).
• Easy field calibration and maintenance.
• G ½" ISO or ½" NPT process connection.
• Pressure rating 20 bar.
• MODBUS-RTU interface

Technical Data | Moisture and Temperature Transmitter In Oil
Measurement Performance

Water Activity

Measurement range

0 … 1 aw

Response time (90 %) at +20 °C in still oil (with stainless steel filter)

<10 min

Sensor

HC1000-400

Accuracy (Including Non-linearity, Hysteresis, and Repeatability):

0 … 0.9 aw

±0.02 aw

0.9 … 1.0 aw

±0.03 aw

Temperature

Measurement range

-40 … +180 °C (-40 … +356 °F)

Accuracy at +20 °C (+68 °F)

±0.2 °C (0.36 °F)
Note: PureTech also supplys other brands moisture transmitter, please contact us for details.
Dimensions | Moisture and Temperature Transmitter In Oil

P

ureTech Successful Projects

on Oil Purification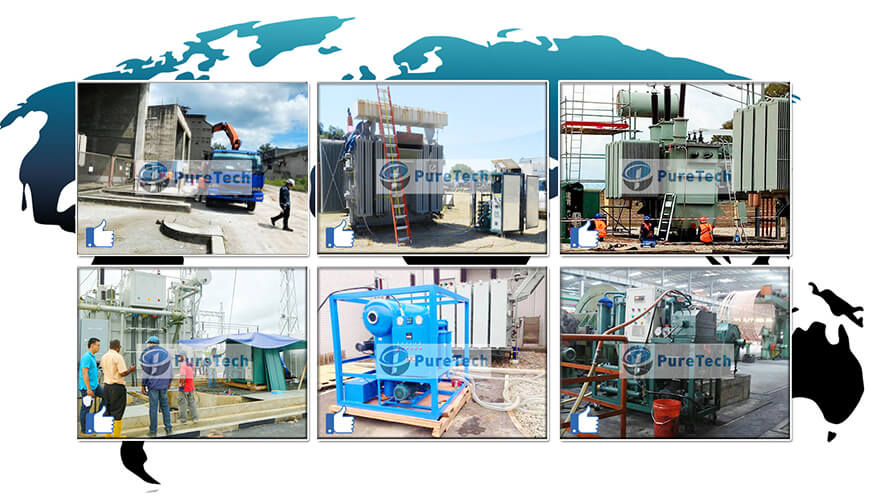 Our Service for You
• 12 months of quality guarantee for non-human damage.
• Lifelong maintenance and spare parts supply.
• Free training on operation, maintenance and troubleshooting at PureTech factory.
• Puretech engineers go to customer site for commissioning and training (payable service).
• Design accept user's customization.