Transforme

r Oil Filter Machine
Transformers require filtered and dried oil. During its usage, the transformer oil absorbs moisture and gets polluted by sopping fibers, dirty particles, aging products, and soot. Even new transformer oil is not clean enough as it may have absorbed moisture from the air or may have got polluted in the barrel it was stored in. Hence, Transformer Oil Filtering is an important process before transformer oil filling.
PureTech vacuum oil filtration machine is used for treatment of transformer oil, includes dehydration of transformer oil, vacuum degassing of transformer oil, as well as transformer oil filtration. Transformer oil filtration procedure eliminates solid particles, dissolved gasses, free and dissolved water. The electrical properties of the oil can be enhanced by filtering, dehydration, and degassing. Oil Filtering keeps the transformer in good condition and increases its life.
Model VOP Single-Stage Vacuum Mobile Transformer Oil Filter Machine is widely applied in low voltage power transformers (below 66KV), oil circuit breakers, inductors and other oil-filled electrical equipment. For high voltage or ultra-high voltage power transformers (above 110KV), Model DVOP Double-stage High-Vacuum Transformer Oil Filtration Machine is recommened, which adds a roots booster pump at the basis of rotary vane vacuum pump, greatly improve the speed of vacuuming as well as the ultimate vacuum. Model DVOP can also be used as an vacuum drying and vacuum filling equipment during transformer maintenance.
Transforme

r Oil Filtration Procedure
1. Transformers oil enter into the oil filtration machine by the means of pressure difference (Operate the vacuum pump, negative pressure is formed inside the equipment; Oil inlet pump can be OPTIONAL).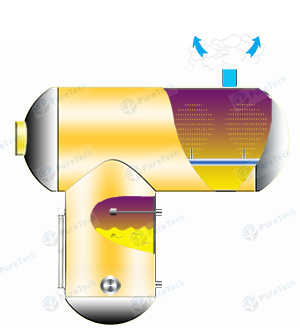 2. Oil will firstly passes through the primary filter which can filter out large-size mechanical particles, besides, protect the oil pump from damage by large mechanical particles.
3. Then the oil is being heater by a eletrical heater which has thermostat. Transformer oil is heated evenly, local overheating is avoided. Temperature can be adjusted from 40 degrees to 85 degrees, normally 60~65 degrees is recommended.
4. The heated oil flows into the vacuum chamber where dehydration and degassing happens, thermal vacuum treatment is proved to be the most effective way for oil dehydration and degassing.
5. Moisture and gas separated from transformer oil will be drained by the vacuum pump or condensed into water and stored in the water tank. (Model DVOP has two stage vacuum pump system.)
6. Transformer oil after dehydration and degassing will be pumped out of the oil purification system after passing through the two-stages fine filters which can filter out small impurities, to ensure the cleanliness of oil.
7. Sampling valve can be turned on when oil sampling and transformer oil testing is required. This machine can realize inner cycle or external cycle when oil circulation is required.
8. Optional oil testing instruments are recommended for online transformer oil testing and monitoring of oil filtration procedure.

PureTech Transforme

r Oil Filtration Systems
1. Model VOP Single-Stage Vacuum Transformer Oil Filtration Machine (suitable for below 66KV power transformers and swtiches)
2. Model DVOP Double-Stage Vacuum Transformer Oil Filtration Machine (suitable for high voltage above 110KV power transformers and swtiches)
3. Model DVOP-R Double-Stage Vacuum Transformer Oil Regeneration Machine (Comparing to DVOP, DVOP-R further removes oil sludge, acids, decaying material and other oxidation products, as well as improve color.)
4. Model RD Standalone Transformer Oil Regeneration Device (standalone unit only for transformer oil regeneration and filtration, without vacuum dehydration and degassing)
5. Mobile trailer and weather-proof metallic enclosure can be selected for outdoor maintenance projects.
Transforme

r Oil Filtration Machine

Technical Parameters
Machine Parameter

Item

Unit

VOP-10

VOP-20

VOP-30

VOP-50

VOP-75

VOP-100

VOP-150

Flow rate

liters/hour

600

1200

1800

3000

4500

6000

9000

Vacuum degree

Mpa

(-0.06) ~ (-0.095)

Working pressure

Mpa

≤ 0.3

Temperature range

℃

40 ~ 80

Power supply

 

380Volts, 50Hz, 3Phase (Or customized)

Heating power

kw

9

15

24

30

48

60

90

Total power

kw

11

17

27

33

54

68

100

Inlet/outlet diameter

mm

25

25

32

32

44

44

50

Size

Length

mm

1200

1300

1400

1400

1550

1700

1800

Width

mm

900

900

900

900

1100

1250

1300

Height

mm

1300

1300

1300

1500

1600

1750

1950

Weight

kg

300

320

350

400

500

650

900

Oil index after purification

Breakdown voltage

kV

≥ 65 (Spherical electrodes)

Water content

ppm

≤ 7

Gas content

%

≤0.1

Filtering accuracy

micron

1 ~ 5
* OPTIONAL CONFIGURATIONS: PLC automatic control system, Fully-Touch Screen, Mobile Trailer, Weather-proof Enclosure, Online Oil Testing Instruments, etc.
* Please inquire us for other flow rates or types.
* The machine size and weight will change slightly due to different configurations.
* Other Transformer maintenance equipment for selection accordingly.
Transformer Oil Filtration Projects Worldwide
Our After-Sales Service for You
• 12 months of quality guarantee for non-human damage.
• Lifelong maintenance and spare parts supply.
• Free training on operation, maintenance and troubleshooting at PureTech factory.
• Puretech engineers go to customer site for commissioning and training (payable service).
• Design accept user's customization.